At Intempus, we're constantly keeping a close eye on local Bay Area rental market, so our clients can always rely on us for assistance when making decisions about their own investments.
Understanding the latest market trends allows investors to strategically determine where to invest, how much rent to charge, and what to expect in terms of ROI.  We encourage every investor we work with to routinely monitor the market; to help simplify this task, we've compiled the latest data from RentCafé reflecting the Albany rental market, as of October 2018.
Albany Rental Market Updates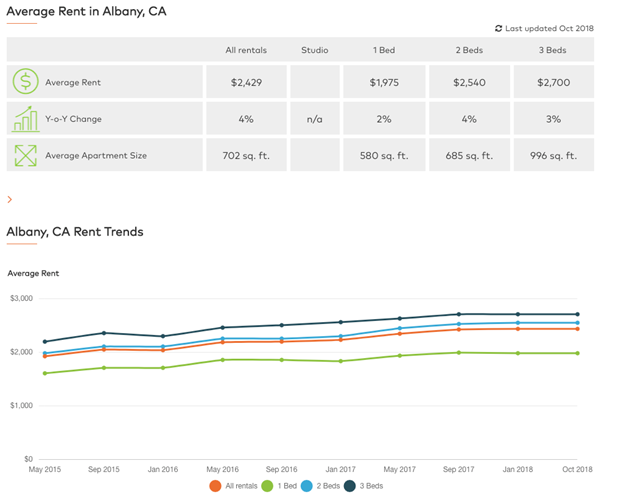 (Source: RentCafe.com)
Interestingly, 2-bedroom homes demonstrated the largest YoY increase in rent prices, while 3-bedroom homes actually dropped in price between September 2017 and this year .  Based on this information, we can determine that 2-bedroom rental homes in Albany are in higher demand than their larger counterparts.
Trust The Top Property Management Team In Albany With Your Investment
Intempus proudly offers a full range of property maintenance and management services, and we're more than happy to assist you with your Albany rental property.
If you're interested in learning more about how our team can assist you with screening new tenants, collecting rent payments, property upkeep, and more, please reach out to our friendly team members today!