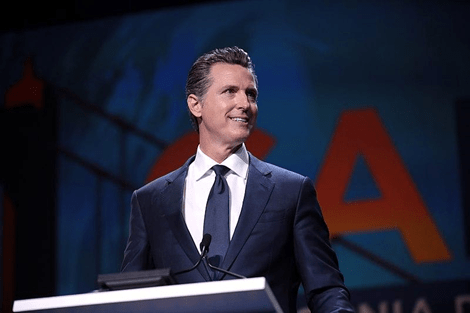 In a historic deal, Gov. Gavin Newsom and California lawmakers reached an agreement last week that would set a statewide maximum rent increase allowance of 5 percent per year, plus inflation, for the next 10 years, reports the LA Times.
Assembly Bill 1482 will also include a provision that limits evictions to lease violations or would require landlords to provide relocation assistance if the tenant has lived in the rental for at least a year.
In a statement, Gov. Newsom, Senate Leader Toni Atkins (D-San Diego), Assembly Speaker Anthony Rendon (D-Lakewood), and Assemblyman David Chiu (D-San Francisco), who authored the bill, said, "We are pleased to announce we have come to an agreement on a series of amendments to AB 1482 that would create strong renter protections. The bill will protect millions of renters from rent-gouging and evictions, and build on the Legislature's work this year to address our broader housing crisis."
The proposed rent caps would not apply to newer properties that were built in the last 15 years. In addition, they wouldn't apply to single-family home rentals unless the homes are owned by large corporations. For example, Google owns large amounts of property in San Jose and Mountain View.
Furthermore, the bill would not impact rent on apartments in cities that already have rent control, such as San Francisco, Los Gatos, and Mountain View. However, cities that don't yet have rent control, such a Concord and Milpitas, would see a cap on rent hikes.
Less than a year ago, California voters rejected a ballot measure that would have applied a statewide rent increase cap that would have likely imposed tighter restrictions in some cities than those now offered by AB 1482. Gov. Newsom also opposed last year's ballot initiative.
However, in the past month, he expressed to reporters that he wanted stricter caps than what was in AB 1482, and he and his advisers started intensifying their negotiations with state lawmakers.
However, pushback from the California Association of Realtors (CAR), which has a lot of influence in the state Capitol, may have led to a less strict version of the bill. Still, after the announcement of the deal last Friday, CAR announced that it would lobby lawmakers to vote against it.
In a statement, CAR President Jared Martin said the bill "will not incentivize production of rental housing or help more people find an affordable place to live. It discourages new rental housing, which is why CAR, representing more than 200,000 real estate agents and brokers across California, strongly opposes it."
However, another statewide organization, the California Apartment Association, which represents landlords, announced that it would not oppose the bill.
Deb Carlton, the association's senior vice president, said, "We applaud the governor for temporarily finding a solution for tenants. Now we must get serious about moving forward on production, which is the only way we address our housing crisis."
Michael Weinstein, president of the nonprofit AIDS Healthcare Foundation, which financed last year's rent control initiative, said his organization is collecting signatures to place a similar measure as last year's on the November 2020 ballot.
Weinstein has criticized AB 1482, saying it's too weak when it comes to protecting tenants. While he acknowledged that the revised version of the bill was an improvement, he said his organization is committed to their own measure, which would further limit rent increases and do more to protect tenants.
"It's a benefit that more people will be covered by some form of [rent] control," Weinstein said, "but it won't stop the homeless crisis, which is being caused by people losing their homes or being evicted. It won't advantage working people and people on fixed incomes who need affordable housing."
Although Gov. Newsom is staunchly supporting AB 1482, the bill still faces an uphill battle to clear both houses of the California State Legislature. This must happen in the next two weeks, by September 13th.
Work with the Bay Area's Experts in Property Management
Intempus Property Management has been the No. 1 property management firm in the greater Bay Area for over a decade. We manage and sell properties from Marin to Solano counties to Santa Clara County and beyond. We focus on providing impeccable service to our clients, and out five-star client reviews speak for themselves. So, whether you're looking to rent, buy, or sell a property, contact us. We're here to help you get the most from the Bay Area's vibrant housing market. One of our friendly team members is waiting to talk to you and answer any questions you have!