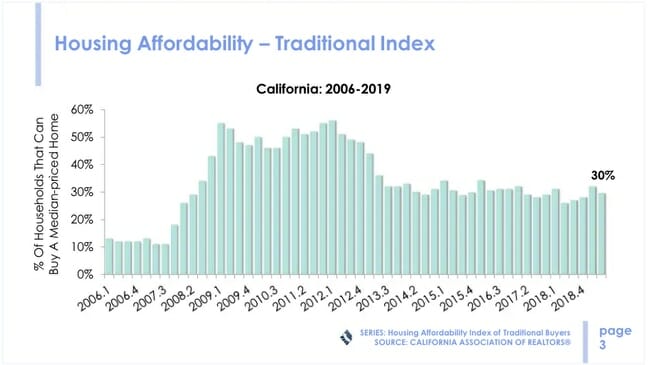 Bay Area Housing Affordability and How to Deal with It
The California Association of Realtors (CAR) recently released its Housing Affordability Index (HAI), which measures the percentage of households that can afford to purchase a median-priced home throughout California. The HAI is a fundamental measurement of, as CAR puts it, "housing well-being for buyers" in the state. Here's an overview of their recent findings and how we recommend buyers and sellers deal with Bay Area market conditions.   
A History of Housing Affordability in California
Since 2012, the percentage of households who can afford to buy a home in California has dropped to below 50 percent. This represents an imbalance in the marketplace.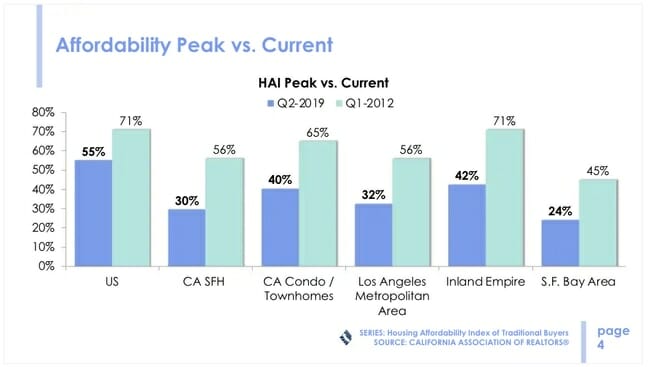 While it's true that the situation was worse in 2006-2008, when only about 10 percent of households could afford to buy a home, the fact that a majority of residents cannot afford to buy their own home underscores problems in the marketplace. Sellers have a smaller pool of potential buyers, and most would-be buyers are being priced out of the market.
Bay Area Least Affordable in the U.S. 
The San Francisco Bay Area trails the U.S., the state of California, and Southern California when it comes to affordability. In the second quarter of this year, only 24 percent of Bay Area residents could afford to buy a home, compared to 55 percent across the U.S. and 32 percent in the Los Angeles metropolitan area. 
The Least Affordable Counties in California Are in the Bay Area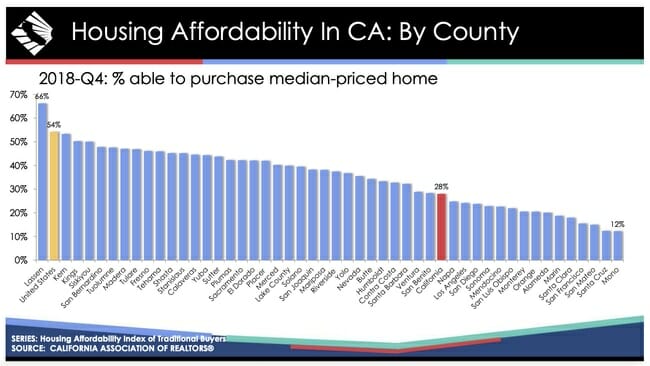 According to CAR, the least affordable counties in California are in the San Francisco Bay Area. These include:
Santa Cruz County – only 12 percent of households can afford to buy a home

San Mateo – only 15 percent can afford to buy a home

San Francisco – only 16 percent

Santa Clara – only 17 percent

Marin County – only 18 percent

Alameda County – only 19 percent

Monterey County – only 20 percent

Sonoma County – only 22 percent

Napa County – only 25 percent
Bay Area Home Prices Outpace Incomes 
Bay Area home prices are high in a large part due to the booming economy and the number of high-paying jobs. However, all over California home prices are outpacing incomes. This is also the case in the Bay Area. There is an increasing disparity between housing prices and household incomes.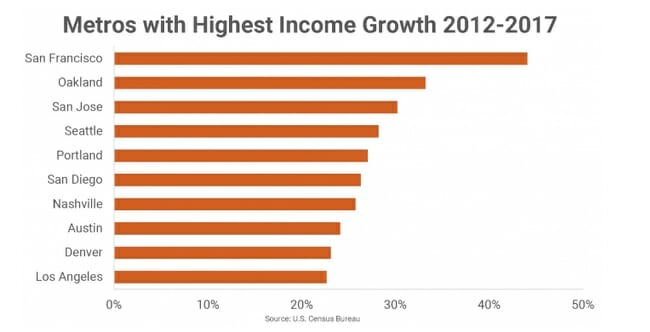 This chart from RealPage.com shows that incomes in San Francisco alone have surged by 45 percent since 2012.
This chart from Compass shows how Bay Area housing prices have nearly doubled – by 91 percent – since 2012.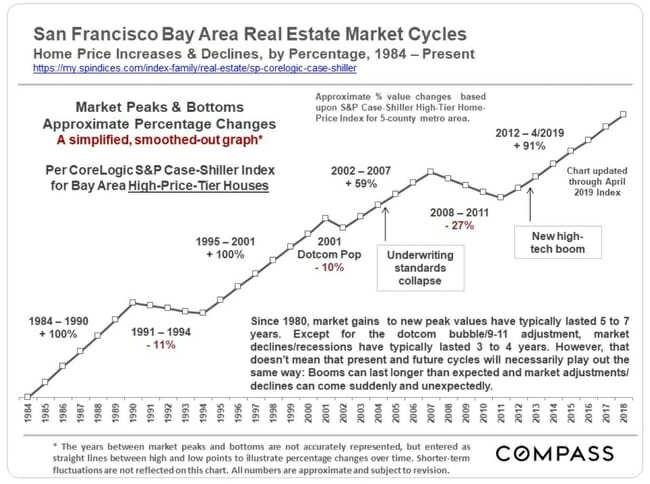 Monthly Payments and Minimum Income
The income needed to buy a home in the Bay Area has risen dramatically because housing supply has not kept up with demand. For example, from 2012 to 2019, while housing costs skyrocketed by 91 percent, the income needed to buy a single-family home increased by 119 percent.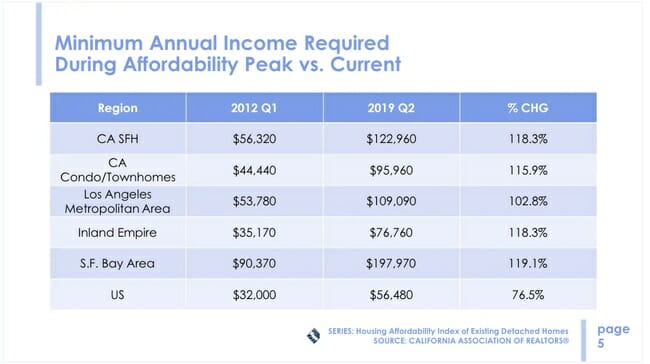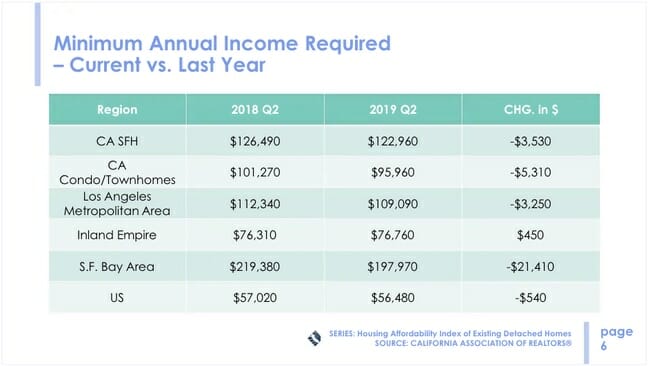 Low Interest Rates Have Helped Affordability
Affordability did improve slightly this year over last year. In the Bay Area in 2018, the minimum income needed to buy a home was $219,380. That amount dropped by almost 10 percent this year to $197,970.
Historically low interest rates have helped. The following chart from My Mortgage Insider shows how mortgage interest rates have fallen since last year.
Interest rates do impact affordability. These charts show how much both income required and monthly mortgage payments change with small changes in the mortgage rates.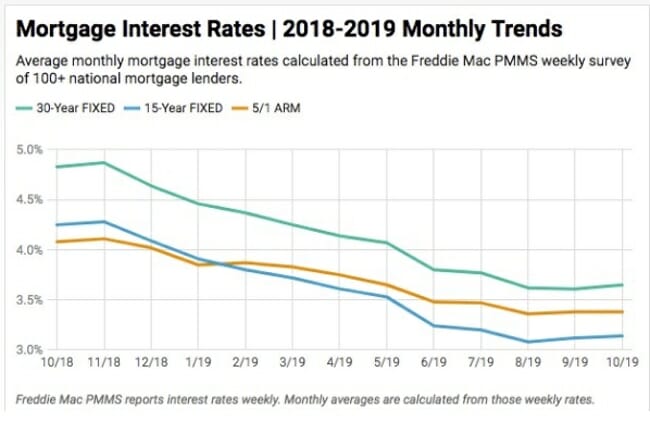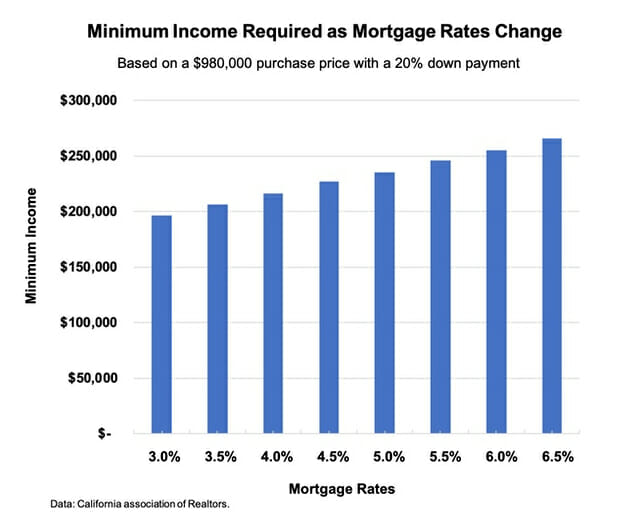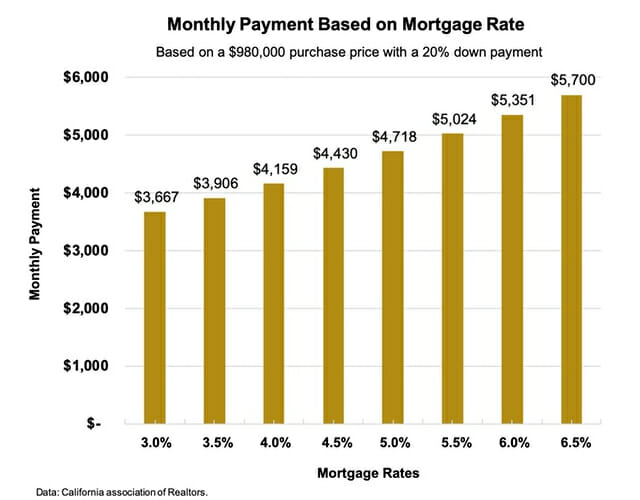 It's clear that mortgage rates matter and that they do affect affordability. It's also important to keep in mind that home prices and mortgage rates have an inverse relationship. When mortgage interest rates fall, home prices rise; and when interest rates go up, home prices fall. 
Impact of Supply on Affordability
Real estate experts say that a balanced market has about a six months supply of housing inventory. When you have a situation with less than three months of supply, options for buyers are very limited. 
Overall, Bay Area counties have a limited supply of inventory. 
In San Francisco, for example, supply has been well below four months all year, and often below three months.
In Santa Clara County, it has been below three months this past year.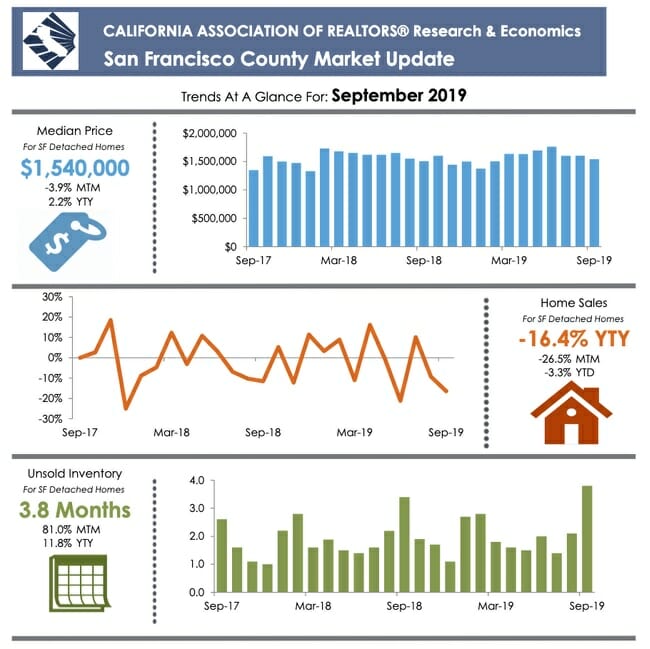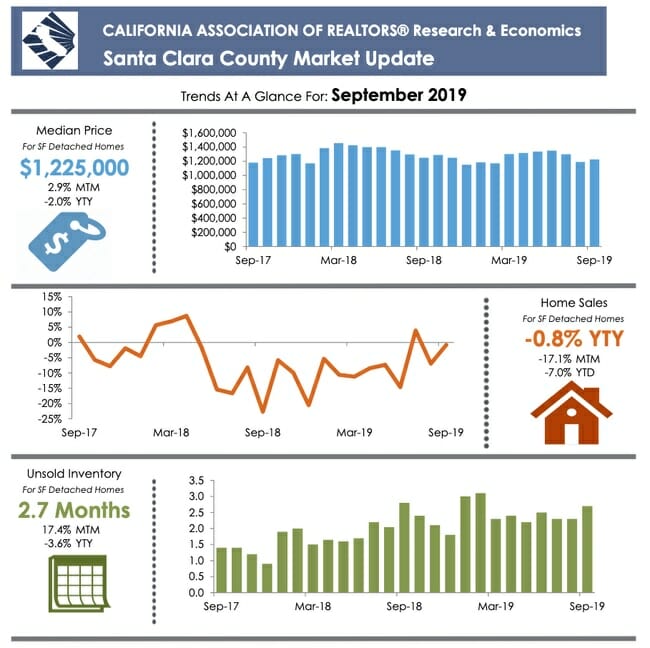 To see data for more counties, see CAR's ShareFile.
Key Takeaways for Buyers
Because housing affordability is challenging to so many in the Bay Area, buyers and their agents need to think outside the box to help the would-be buyer realize their dream of owning their own home.
Many variables impact affordability, and it's up to agents and their clients to capitalize as much as possible on the levers that are within their control that they can pull in their favor. For example, optimizing the client's credit score and borrower profile can help make buying a home more affordable. 
It's also important that agents help their clients envision the potential in what a property can become. Some clients may shy away from a fixer upper simply because they don't have experience remodeling, or they don't have the time to manage the process. This is where an agent can be a helpful partner by connecting their clients with the right professionals who can turn a fixer upper into a dream home.
While timing is important in real estate, experts will tell you that in the Bay Area, it's important to get into the market as soon as you can afford it. Waiting represents an opportunity cost. Currently, interest rates are at historical lows, which adds to the incentive to get in the market now.
Buyers should also be prepared to offer above the list price, particularly in San Francisco. If they find a home they love, offering the seller a figure above the asking price can be the difference between an offer being accepted or not accepted.
Furthermore, with new incentives across the state for property owners to add ADUs to their properties, would-be buyers should consider whether they can add a rental unit to a property as a way to make it more affordable.
Key Takeaways for Sellers
For Bay Area sellers, market conditions are great, and as with buying, waiting on improvements in the market can incur opportunity costs. Sellers have to work within their personal timelines, such as if they're simultaneously buying a home as they sell one. But with so many buyers clamoring to own a home in the Bay Area, it's a great time to be in a position to sell an eager buyer their dream home.
Get the Most from the Bay Area's Vibrant Housing Market
At Intempus Property Management, we've been proudly serving clients throughout the greater Bay Area and Silicon Valley for over 15 years. We put our clients first, and our five-star client reviews speak for themselves. So, whether you're looking to buy, sell, or rent a property, contact us. One of our friendly team members will be happy to talk with you and answer any questions you have!