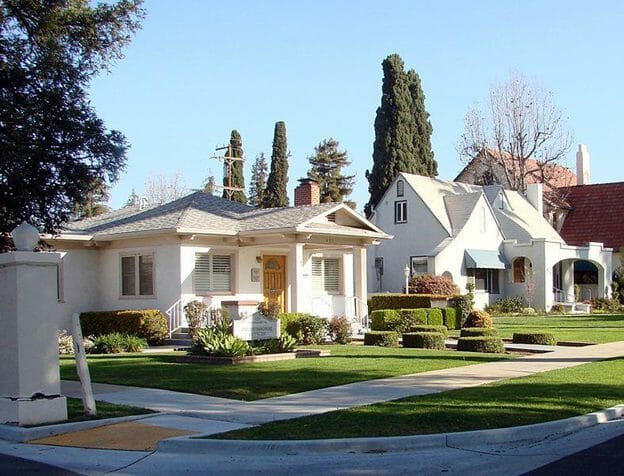 Buying a new home while you're selling your current one requires a juggling act with multiple organizations and stakeholders in a specific window of time, and everything needs to go smoothly. Here are some expert tips for navigating the process.
Focus on the sale potential of your existing home first.
The Bay Area is a unique housing market because it's so competitive. For sellers, the high demand  for housing works in your favor: the sales cycle is relatively fast in the Bay Area compared to other parts of the country. However, market conditions fluctuate here as they do in other locations, so you'll want to be conservative when it comes to estimating how long – or how quickly – it's going to take for your existing home to sell.
In the Bay Area, where all-cash and preemptive offers are not uncommon, you need to be prepared that your home could sell faster than you expected it to, so you need a plan for where you and your family will live if the new owners want the house right away and you don't have a new home to move into yet.
At the same time, you want to be prepared for your home to take longer to sell than you might think. The key is understanding the market conditions for your neighborhood, which an experienced real estate professional can help you with.
Sellers, often, provide a home warranty to buyers to give them peace of mind. These warranties last for one year and help reduce the cost of unexpected repairs from normal wear and tear of appliances and systems. Then, the buyer can renew the home warranty by paying the annual fee.
Create a list of must-haves, non-negotiables, and like-to-haves.
Compromising on certain things is inevitable, so it's important to be clear before you begin this process on what things are must-haves, what are non-negotiables, and what are like-to-haves.
For example, on your home sale, you may need the profits from the sale for a downpayment on your new home. In this case, you'll want to be clear ahead of time on a bottom price that you'll be willing to sell the home for. You may also have a sell-buy date, such as before the new school year starts.
When it comes to the new home you want to buy, be clear on your needs, such as no remodeling required, in a good school district, three bathroom, etc. Furthermore, consider the highest price you can afford if your existing home sells at the lowest price you'll accept.
Setting these types of parameters, and sharing them with your real estate agent, will make decision-marking easier while lowering the odds that you'll experience seller's or buyer's remorse later on.
Get your current home ready to sell ahead of time, so there are no surprises
It's easier to sell an apology-free house or condo than one with issues. In addition, you want to reduce your risks as much as possible ahead of time. The last thing you want is a surprise costly repair to come up when you're trying to close on the sale of your existing home so you can buy your new one. For this reason, do a thorough inspection of the property before you plan to sell and get repairs done well ahead of time.
In addition to repairs and maintenance, focus on the aesthetics of the home. Get rid of clutter, add a fresh layer of paint, install new carpeting, clean up your landscaping, etc. Real estate experts say that curb appeal of the home is one of the most important features when it comes to selling a house, as we wrote about in our post on this topic. So, be sure the exterior of your home is show-place ready before you plan to put it on the market.
Create a timeline.
Be clear about what needs to happen when, and where you're flexible on dates. Creating a rough schedule of when certain things need to happen will help everyone stay on task. For instance, if you need to install a new garage door on the current home, when will this happen? If you need to be in your new home in the new school district by a certain date, what has to happen before then? How long will you have before you need to find your new home? Getting things down on paper, in a spreadsheet, or task management software will bring a dose of reality to the project and help to ensure you stay on course.
Work with one experienced agent whom you trust.
Navigating the complexities of selling and buying a home at the same time will be far easier if you work with an experienced real estate agent whom you trust. Professional agents are managing these kinds of transactions every day, so they know the ups and downs of what could happen and how you can pivot in certain scenarios.
Your agent will also be able to guide you based on current market trends. For example, they can tell you if the market is so hot that contingencies are simply not an option. In the Bay Area, many homes and condos are sold without any contingencies, so you can miss out on getting the home you want if your offer has them while other buyers' offers do not.
It's also a good idea to use one agent for both your sale and the home you're buying. This way, they'll be fully cognizant of the complexities of both deals that are on the table and can negotiate in your favor. If you would like to talk to an experienced agent about your specific circumstances, don't hesitate to contact Intempus. We can advise you on all matters related to buying and selling a property in the Bay Area.
Get your financial house in order.
These two transactions are likely the largest you will have ever handled, so you want to get everything lined up ahead of time. Here are some items to consider:
The cost of repairs, fixing up, and staging your current home to get it ready to sell.
Setting up a cash reserve to cover the cost of potentially paying two mortgages for a set period of time.
Making sure you have 6-9 months in a cash reserve to cover expenses for you and your family.
Budgeting for maintenance for the new home you'll buy. If you're upsizing, consider how much more you might spend for yearly maintenance on the new home.
Budget for remodeling, new furnishings, landscaping, etc. for your new home. What will you need to do right away and what can you live with for a while before upgrading?
Cost of renting for a year if you decide to sell your home before you have a new home to move into.
As mentioned above, set a benchmark on the lowest amount that you're willing to sell your existing home for, and the top limit for the purchase price of your new home. One of the biggest regrets that homeowners say they have about buying a home is the unexpected costs of maintenance and repairs. So, be sure you have a realistic plan for what you can afford well before starting these two transactions.
Determine what size mortgage you can qualify for now.
Real estate expert Dave Ramsey cautions that it will be more challenging to qualify for a new mortgage if you're relying on the sale of your current home for the down payment on your new one.
In addition, the market and mortgage rates will have changed since you bought your current home, and thus the size of mortgage you qualified for at one point in time may be a very different picture from what you can qualify for now. Understanding where you stand will bring clarity to what you can afford and what is out of range.
Discuss with your agent whether contingencies will be possible in the current market.
As mentioned above, an experienced licensed agent can tell you if asking for a purchase contingency that involves the sale of your existing home will be acceptable in the current real estate market.
In the Bay Area, it's common for sellers to receive multiple offers for their homes and condos, and buyers with too many contingencies, or just one, can lose out to buyers who have none. So, if a purchase contingency is not realistic, you'll want to be prepared for how you'll purchase the new place, even if the current home has not sold yet.
Don't expect that you'll be able to close on the two homes on the same day.
While it would be great to have your current home sale close on the same day that you close on your new home, the odds are that this won't happen, so you'll want to be prepared.
According to Dave Ramsey, closings can be delayed for any number of reasons, such as a home inspector finds issues in your new home or your buyer runs into problems with their financing. You want to minimize the gaps between these two dates, but also be prepared that you may have to keep paying the mortgage and other expenses on your current home while starting to pay on your new home. In addition, you'll need a plan for when movers need to arrive and where your family, including pets, will stay during the gap, if there is one, between your move-out and move-in dates.
See if you can negotiate on the settlement date.
It's important to remember that everything is negotiable. Tara Mastroeni, a contributor to Forbes, recommends negotiating for the settlement dates you need if you want to move directly from your old home into your new one. If this kind of transition is one of your must-haves, perhaps you can negotiate with your buyer and seller on this matter, meanwhile making concessions in areas that are important to them.
Be prepared that you may not have the option of a rent-back on your current home.
Rent-back agreements are not uncommon in the Bay Area. In such a situation, you negotiate with the buyer of your current home that you can stay in it for a set amount of time, paying them rent or covering the mortgage for that period until you're able to move into your new home.
Buyers in a competitive market may be all-too willing to do this. However, you need to keep in mind that if you took the best offer on your home, you may not be in the position to negotiate a rent-back. The buyer may want to start remodeling right away, or even move in right away. So, while rent-backs are common in the Bay Area, you need to be prepared that a rent-back may not be a possibility.
Beware of bridge and HELOC loans.
Dave Ramsey cautions homeowners who are selling and buying at the same time to be wary of lenders offering bridge or HELOC loans.
A bridge loan lets you use the equity in your current home to fund the downpayment on your new home vs. using cash you have on-hand. A bridge loan is a short-term loan that you have to repay quickly. The risk of this type of loan is that payments, penalties, and fees are higher than they are on longer term loans.
With HELOC, or Home Equity Lines of Credit, loans, in which you also your home's equity for the down payment, you may have to repay the full loan within one-to-three years, on top of paying your regular mortgage payments. Thus, it's critical that you understand the true costs of these types of loans. It may make more financial sense to sell your existing home and rent a place until you find your dream home.
Consider renting for a while.
In the Bay Area's competitive market, it can take a long time to find the perfect home that you can afford. While moving twice and signing a year lease on a rental might seem like a pain, renting can take a lot of pressure off both the selling and buying process while giving you the time you need to handle both transactions to your advantage.
Don't close on a Friday.
A final tip on handling these two transactions is to try to avoid closing the sale on your new home on a Friday. The reason is, the county recorder works on business days. So, your loan may close and you start accruing interest, but you still don't legally have access to your new place!
Work with the Bay Area's Real Estate and Property Management Experts
At Intempus Property Management, we have proudly been helping homeowners, homebuyers, landlords, and tenants with their property management and real estate needs for over a decade. As Silicon Valley's and the greater Bay Area's leading property management firm, our award-winning services consistently get five-star reviews from our clients. We manage properties from the North Bay through San Francisco, the Peninsula, the East Bay, the South Bay, and beyond. So, whether you're looking to buy, sell, or rent a property, contact us. One of our friendly team members will be happy to work with you!