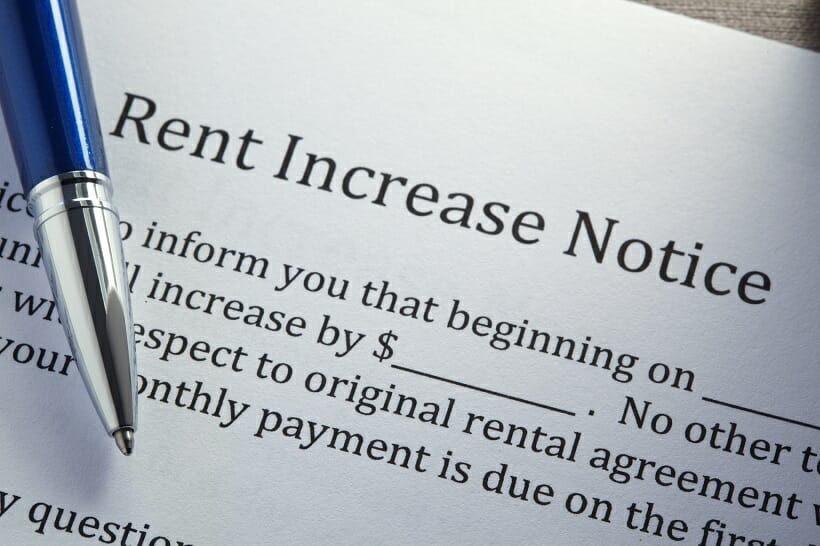 California's Legislature has just approved Assembly Bill 1482. The bill, which is expected to be signed by Gov. Newsom soon, will make large rent increases illegal and will provide California renters with some of the strongest eviction protection laws in the country. Once Gov. Newsom signs the bill into law, it will be in effect from January 1, 2020 through the end of 2030.
The bill was inspired by California's dearth in affordable housing for its growing population and a growing homeless problem, reports the Mercury News. The State Assembly passed the bill by a 46-22 vote, according to the real estate site Curbed.
The bill, which was authored by Assemblyman David Chiu, D-San Francisco, limits annual rent increases to 5 percent plus the rate of inflation. While inflation varies slightly by region, California averages about 2.5 percent per year.
In addition, the bill will require that landlords provide a "just cause" reason for evicting tenants, such as the tenant violated the terms of their lease. In some situations, landlords may have to pay tenants' relocation costs after an eviction.
50 Percent of California Renters Pay over 30 Percent of Income on Rent
At least 50 percent of residents who rent in California, which is comprised of over 3 million households, spend more than 30 percent of their monthly income on rent. Over 30 percent meets a federal government benchmark that qualifies the resident as "rent-burdened" – not having enough money for other household expenses after paying rent.
"Folks are being asked to pay 50, 60, 70 percent of their net spendable income on rent, because landlords are raising the rents," said Assemblymember Richard Bloom, D-Santa Monica, in Curbed. "What's someone to do in that situation?"
Assembly Bill 1482 will affect about 8 million renters. This represents the strongest rent protections for the largest group of renters in any state in the county.
Anti-Rent Gouging vs. Rent Control
Assemblyman Rob Bonta, D-Alameda, who co-authored the bill with Assemblyman Chiu stressed that the bill was not so much rent control as protecting renters from extreme rent hikes. "Words matter," he said. "This is not rent control. This is an anti-rent-gouging bill."
A study conducted by UC Berkeley found that over a six year period 10 California communities undergoing gentrification experienced rent increases of over 10 percent every three years.
Before Assembly Bill 1482, 15 cities in California already had rent control laws in place. Generally, they set the rent increase limit to between 1 to 4 percent.
Some Exceptions
Single-family homes will be exempt from the rent increase limits imposed by the bill. Unless, that is, the homes are owned by investment firms.
Furthermore, the bill will only apply to eligible rental units that were built after 2005. This means millions of new housing units will be subject to the rent-increase law.
In addition, the rent cap law will not apply if a tenant leaves. In that case, the landlord will be able to increase the rent on the unit for new tenants.
Just Cause Evictions
While the rent increase limit has received a lot of attention in the press, another important component to the bill is the limitations landlords will have for evicting tenants. Prior to Assembly Bill 1482, in many parts of California, landlords could evict tenants without an explicit reason.
Once the bill becomes a law, landlords will have to provide a specific reason, out of a limited number of options, for evicting a tenant. In addition, there could be consequences to the landlord related to the reason for the eviction. For example, if a landlord forces a tenant to move so they can remodel a unit or let a family member move in, the landlord will have to pay the tenant one month's rent in relocation assistance.
Marcos Segura, an eviction defense lawyer for the housing nonprofit Central California Legal Services, said that landlords evicting tenants without cause is not uncommon. For example, he said he sees landlords evicting tenants because the tenant complains about needed repairs and shoddy living conditions.
"If you take that option away from landlords," said Segura, "where they can serve no-cause eviction notices, in those cases it would make all the difference in the world."
California Landlord Lobby Approves the Bill
In 2018, the California Apartment Association and its allies spent over $70 million to defeat a previous statewide rent control initiative. However, they have not opposed Bill 1482 because they fear even more stringent rent control laws later. Not fighting the current bill could curtail a strong rent control bill from making its way through the State Assembly next year.
Michael Weinstein, who is president of the Los Angeles-based AIDS Healthcare Foundation, says that Bill 1482 has not gone far enough to protect renters, particularly those of low income. He is currently collecting signatures for another statewide rent-control initiative for the November 2020 ballot.
Debra Carlton, a lobbyist for the California Apartment Association, said, "We will argue the state has already spoken on this topic, we will argue this is a balance, we will argue everyone came to the table and found some common ground finally for a temporary solution."
Opponents of the Bill
Opponents of the bill say it will backfire and cause more of an affordable housing shortage. For example, they say the bill will encourage landlords to raise rents every year, even if they were not planning to do so.
By and large, developers did not oppose the bill, but they don't see how it will help spur new housing development. In fact, they think it will impede it.
When getting financing for new housing projects, developers often build into their forecasts that there will be annual rent increases of 2 to 3 percent. Having further flexibility to raise rents to a market rate once the construction project is complete is more appealing to investors; while rent caps instill more reticence.
"The new construction exemption is key because it's hard to get investors to invest in multifamily units on a 10-year window," said the head of the California Building Industry Association Dan Dunmoyer. "It just doesn't pencil out. Fifteen years is a balance of what is doable for attracting capital. Anything less than that just makes it harder to bring investors to California."
Work with the Property Management Experts of the Bay Area, the Central Valley, and Beyond
Intempus Property Management has been proudly serving homeowners, homebuyers, landlords, and tenants with their property management and real estate needs for over a decade. As the leading property management firm serving the San Francisco Bay Area, Central Valley, and Silicon Valley, our award-winning services consistently get five-star reviews from our clients. We manage properties from the Central Valley to the East Bay, the North Bay, San Francisco, the Peninsula, the South Bay, and Santa Cruz County. So, whether you're looking to buy, sell, or rent a property, contact us. One of our friendly team members will be happy to work with you!