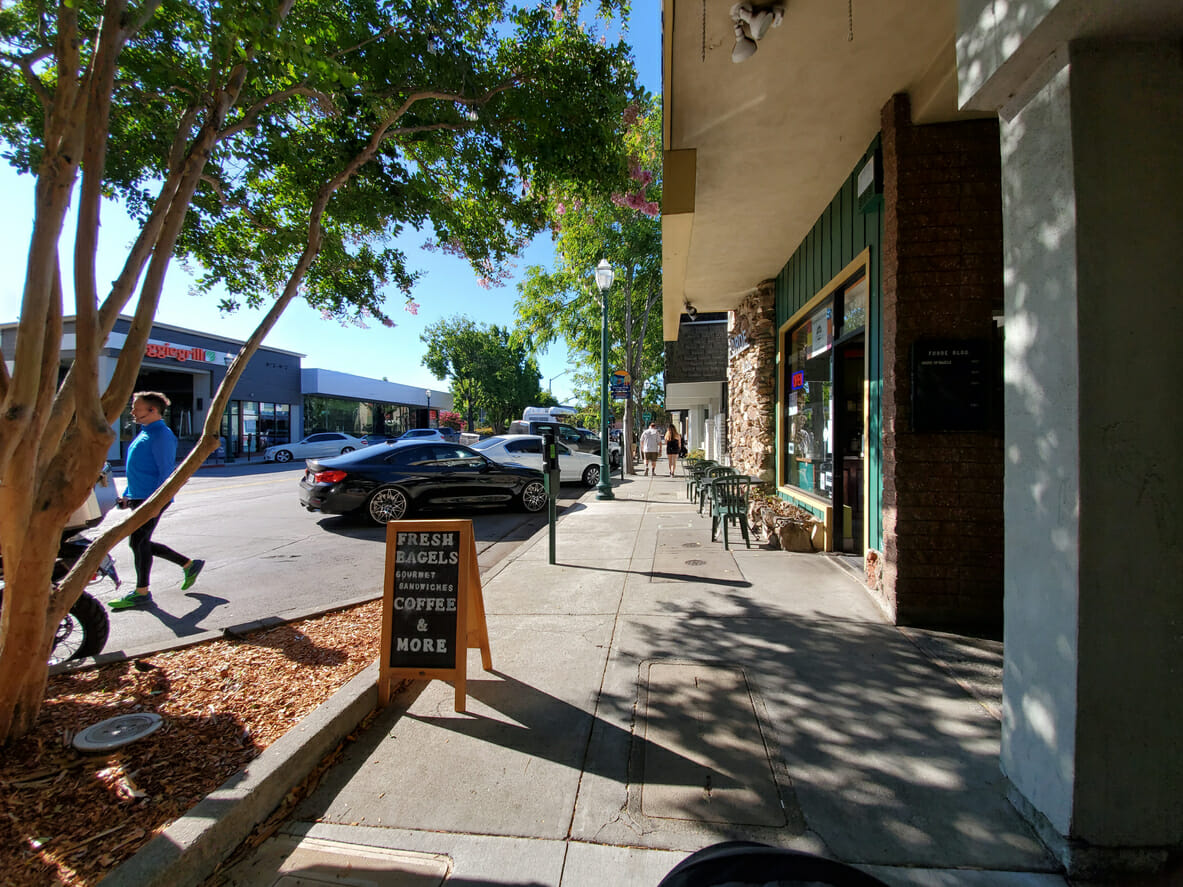 Intempus Property Management has been proudly providing Walnut Creek property management services for well over a decade. We have a team of local, Walnut Creek property management experts who are familiar with the unique qualities and lifestyle of the Walnut Creek community. We are very familiar with the neighborhoods and special attractions that make Walnut Creek a great place to live.
If you own property in Walnut Creek, California that you're thinking of renting it out, we would be happy to talk with you and answer any questions you have. Our team will find the ideal tenant for your rental.
We provide a full suite of property management services that we'll tailor to your needs as a homeowner, a building owner, a landlord, and also an investor. We have a team of local experts who specialize in Walnut Creek and Contra Costa County. Collectively, our team manages a portfolio of over 300 homes, townhouses, condos, and apartments. 
Our goal is to provide you with complete assurance, combined with premier property management services, so you'll be confident that your property is well taken care of. 
The results you'll experience will be high tenant retention, a low vacancy rate, and consistent rental income month after month.
The Intempus team will go above and beyond to make sure you're fully satisfied with our services and that your property is well taken care of!
Partner with the Experts in Walnut Creek Property Management
Our Walnut Creek team is familiar with the unique neighborhoods and areas in and around Walnut Creek, so we can advise potential tenants as we find the perfect tenant for your property. 
Some of the neighborhoods in Walnut Creek that we serve include:
Downtown Walnut Creek

Beacon Ridge

Blackwood

Livorna Estates

Meadow Creek

Northgate

Oak Road

Broadway Plaza

Brooktree

Tice Valley

Waldon

Walnut Creek Estates

Walnut Heights

Diablo Hills

Diablo Shadows

Joaquin Ranch

Lafayette Valley Estates

Overlook

Palos Verdes

Parkmead

Pleasant Run

Pleasant Valley

Rancho Paraiso

Rossmor

Parkmead

Pleasant Run

Rudgear Estates

Rudgear Meadows

Lakewood, Larkey Park

Livorna Estates

Meadow Creek

Saranap

Somerset

Walnut Knolls

Wild Oak

Woodlands

Northgate

Oak Road

Overlook

Palos Verdes

San Miguel

Sancho

Sterling Ridge

Summit Ridge
Our Commitment As Your Walnut Creek Property Manager
Our goal is to find the ideal match of your property with the right tenant. 
When prospective tenants come to us who are looking for a rental in the Walnut Creek area, we can tell them about local attractions and things to do in the area, such as:
California Symphony

Gardens at Heather Farms

Lindsay Wildlife Museum

Shadelands Ranch Museum
We're also familiar with local restaurants and grocery stores, so we can advise potential tenants about destinations that are near your property. 
Some of Walnut Creek's popular markets, shopping centers, restaurants, and bars that we can recommend include:
Broadway Plaza

Diablo Valley Farmers' Market

Sprouts Farmers Market

Contra Costa Farmers' Market

Calicraft Brewing Company

Farm Creek Brewing Company

Walnut Creek Yacht Club

Va de Vi

True Food Kitchen
We can also advise potential tenants about outdoor recreation areas, such as park and local trails, which make Walnut Creek a great place to live. Some of these include:
Civic Park

Heather Farm Park and Dog Park

Diablo Hills Regional Park

Arbolado Park

Old Borges Ranch

Acalanes Ridge

Walden Park
We can also advise your potential tenants on where they can find additional local grocery stores, schools, places of worship, information on public transportation, and other relevant information about living in Walnut Creek. We will always emphasize the most attractive aspects of your property's location.
As your Walnut Creek property manager, we are committed to providing you with:
Personalized Walnut Creek Property Management Services
We'll customize your Walnut Creek property management experience and cater to your unique needs as a landlord, a home or building owner, and investor. Our goal is to provide you with property management services that are comprehensive and that leave you worry-free.
 We act as your personal concierge and our customizable services include: 
Walnut Creek residential property management

Walnut Creek commercial property management

Real estate management

Acquisitions

Relationship management

Real estate sales

Investments

Construction and remodeling
We offer a tried and true process for managing your rental. Here are the benefits of having Intempus Property Management handle your Walnut Creek property:<H3>
We start with an evaluation of your Walnut Creek rental so we can maximize your rent value.
One of the first steps we take in assisting you with your property management needs is setting up a property evaluation meeting. At this meeting, we'll take a look at your property and learn about your needs and objectives. We'll also make recommendations about opportunities to increase the value of your investment and maximize your rent.
At your property evaluation meeting, we'll:
Make a rental rate determination

Discuss guidelines, as well as the pros and cons of items you may want to include in your lease, such as smoke detectors, pet restrictions, and more

Suggest ways to maximize your property value with repairs and upgrades

Install a lock box so that we can securely maintain your property
We'll professionally market your Walnut Creek property on over 200 trusted rental websites that are in our network.
Part of our proven process to obtain quality tenants and to optimize your rent is marketing your Walnut Creek property on our network of over 200 rental websites. We know which sites will give you the broadest reach, so we can access a pool of high-quality tenants. We provide everything from professional HDR photography and expert copywriting services.
As Silicon Valley residents ourselves, we're familiar with the uniquely compelling attributes of communities in and around Walnut Creek. To attract the best tenants, we promote not just your rental, but the positive features of the Walnut Creek community, such as restaurants, shopping, parks and recreation spaces, and more.
We'll get your property ready to promote and for your new tenants to move in.
Once we complete your property evaluation and all of the necessary paperwork, we'll get your property ready to market, plus we'll make it move-in ready for your tenants. These steps include:
Cleaning the property thoroughly from top to bottom

Making any needed repairs

Taking professional photos of the property

Writing the property rental description for use in marketing materials

Creating promotional materials for the property, including social media posts, print publications, flyers, and more

Alerting local realtors about the new listing

Marketing the property in channels that attract high-quality tenants
The Walnut Creek Intempus property management team is available seven days per week to show our rental property to prospective tenants.
We'll screen applicants so you get the best tenants.
How we screen rental applicants:
 Every rental applicant must complete a detailed application in order to be considered as a tenant.
We help you qualify and select the best tenants by collecting all of the information you need to make an educated decision. We provide a variety of checks in addition to a detailed application for each applicant. Checks we perform include a background check, a credit check, and a reference check. Our reference checks include contacting former landlords and employers for each applicant. Once we've completed the screening process, we'll present the information to you so you can make an informed decision.
We handle every step of the move-in for your Walnut Creek rental.
Once you've selected your tenant, we facilitate and supervise every step of the move-in process. The property will remain listed on the market until a security deposit is received. This helps eliminate any avoidable vacancies.
Every tenant will sign a binding lease agreement provided by our team of legal professionals. The agreement may include terms and guidelines specific to your property. Upon completion of the agreement, we'll ensure the tenant clearly understands the terms by reviewing it with them.
 Once the agreement is signed we:
Provide the tenant with a login to our easy-to-use Intempus Property Management Tenant Portal

Collect the first month's rent

Verify that the tenant has procured renter's insurance

Conduct a walkthrough of the property with the tenant and sign a Statement of Condition
We collect the rent and other payments for your rental.
Ensuring that rent and payments are received on time and consistently is essential to us as we know it is to you. Payment due dates will be specified in the lease and collected throughout the tenancy. We always do our best to collect on-time payments, but we have procedures in place in the event a payment is overdue. If a payment is overdue, we will contact the tenant to make payment arrangements. Late fees will be enforced. If necessary, we dispense pay-or-quit notices.
We perform yearly inspections to ensure proper upkeep of your Walnut Creek property and to make sure your property is safe.
We provide yearly inspections for properties under our management. Yearly inspections allow us to ensure the property is being properly cared for. It also helps us to proactively find any safety hazards, code violations, repair needs, or lease violations. We will provide you with a detailed report that highlights our findings once the inspection is complete.
We provide bookkeeping services for your rental.
When we say we want you to be worry-free, we meant it! Our team of Intempus Property Management accountants will crunch the numbers for you, so you don't have to.
Our accounting services include:
Making any necessary payments on your behalf

Keeping records of all credits and debits

Providing detailed, incremental reports throughout the year

Providing necessary documents for you when it's tax time

Suggesting tax deductions you may qualify for
We offer a free, 24-hour repair hotline and provide preventative maintenance for your Walnut Creek rental.
You and your tenant will have a 24-hour repair hotline that you can use for repair emergencies.
Have an emergency? Contact our 24-hour repair hotline now.
In addition to emergency repairs, we provide a preventative maintenance plan for every property that's under our management. We strive to resolve problems quickly and efficiently.
We have an in-house team of maintenance professionals as well as a trusted network of external contractors. We get repair estimates quickly and ensure repairs are done properly the first time. Our team serves as your general contractor for repairs and we facilitate, supervise, and manage the work of external contractors while work is being done on your property.
We handle the move-out for your rental.
When it's time for your tenant to move out, we will manage the process for you. This involves conducting a detailed inspection of your property, just as we performed before the tenant moved in.
We'll provide you with a thorough condition report that will be created for you and the  tenant, which will list any damages we find. At the move out, we also return the remaining balance of the security deposit, minus any fees for repairs.
After the tenant has moved out, we'll clean the property, complete any repairs, and re-key locks. When the property is ready, we can restart our proven process again to find your next quality tenant.
Living in Walnut Creek, California
Located 25 miles northeast of San Francisco, Walnut Creek is a lovely town in Contra Costa County in the East Bay of the greater Bay Area. But with 262 sunny days per year, Walnut Creek is a far cry from the foggier cities of the coastal Bay Area. 
Walnut Creek's population of nearly 70,000 is comprised of primarily white collar professionals, with more people working in computer, math, and digital media jobs than in 95 percent of the rest of the country. While most of Walnut Creek's workforce commutes to work, about 8 percent of workers telecommute from home. This is definitely a tech-dominated workforce.
Temperatures in Walnut Creek range from the 40s in winter to the high 80s in summer. But recent heat waves can cause summer temperatures to get into the high 90s and low 100s.
With its sunny, warm climate, Walnut Creek attracts residents who like to get outside and enjoy outdoor recreation. About 23 miles from Mt. Diablo, the town offers ample hiking opportunities, boasting 2,700 acres of open space. In addition, the city has 22 parks that comprise of 250 acres, and which are enjoyed by local residents of all ages, as well as their dogs.
Walnut Creek is about 77 percent white, though the city reflects the growing diversity of the greater Bay Area, as it was 91 percent white in the 1990s. Today, other ethnic groups in Walnut Creek include African American, Asian or Pacific Islander, Latino or Hispanic, and others. And about 23 percent of residents were born outside of the U.S., which is reflective of the Bay Area's burgeoning tech industry being a magnet for people who want to take advantage of the great job opportunities here.
Get the Most from Your Walnut Creek Property Investment
Intempus Property Management has been the leading property management and real estate firm for the Bay Area's East Bay, North Bay, South Bay, and beyond for over 13 years. We manage and sell properties from Contra Costa County to Alameda, Marin, San Francisco, and San Mateo counties and beyond. As Walnut Creek's leading property management and real estate firm, our award-winning services consistently get five-star reviews from our clients. So, whether you're looking to rent, buy, or sell a property, contact us. We're here to help you get the most from the East Bay's vibrant housing market. One of our friendly team members is waiting to talk to you and answer any questions you have!