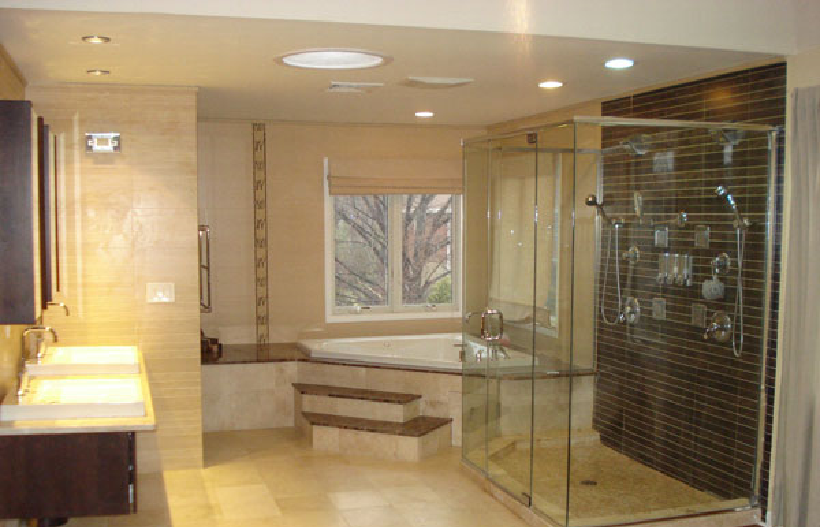 Bathrooms remodeling is a great way to add to your property's value and, not to mention, enhance your enjoyment of your home. We took a look to see what industry experts are saying about the hottest trends in bathroom remodeling for 2019 and we share them with you here.
Nature-Inspired Colors and Textures
According to the home design powerhouse HGTV, people are clamoring for a natural aesthetic in their bathrooms along with a spa-like vibe. Creating a natural ambiance might include sand-colored backsplashes and tiles and using natural wood in the bathroom. For example, one way designers are incorporating wood into the bathroom is with natural wood planked ceilings.
The design site Decor Aid says wooden vanities have gained in popularity as well, with some designers converting antique wood dressers, even family heirlooms, into truly unique, freestanding vanities. In addition to bringing a warm, natural feel to a bathroom, wood dressers converted into vanities provide plenty of under-the-sink storage space.
Modern bathroom designers are also bringing nature into the bathroom with shades of green, such as dark forest green or jade green painted walls. And if you want something even more vibrant, opt for extra large floral print wallpaper.
Bamboo features, including bathmats, waste baskets, and benches can also bring a spa-like vibe to a nature-inspired bathroom. And stone or pebble flooring add to the natural motif. Include some plants and an aromatherapy diffuser and you have your very own spa-like sanctuary.
Industrial Chic
Quite the opposite of nature-inspired, some homeowners are opting for industrial style bathrooms. Industrial chic bathrooms might have concrete, textured walls and visible copper pipes and other accents, such as copper faucets and light fixtures. Copper can also make a striking contrasting colors to turquoise blue, making tiles and backsplashes pop.
Other industrial looks include gray tiles and backsplashes or using marble throughout the bathroom, from the floor to shower to vanity. Oversized, industrial-style sinks and bathtubs present a powerful statement, and antique industrial-style cabinets can be converted into unique vanities. Match them with gold, brass, copper, or matte black fixtures and you've completed the look.
Retro Styling
It seems that retro style will never go out of style. Mid-century Modern bathrooms are very much in vogue 70 years later. The clean, simple lines from that period are the perfect style for the room where you go to get clean.
Free-standing, clawfoot bathtubs also add vintage flair to retro-styled bathrooms. And you can add a shower curtain in virtually any pattern of fabric you can imagine. So, whether you like Victorian or all-out Bohemian style, your clawfoot tub can bring the look home in a fun and vibrant way.
According to HGTV, pink bathrooms were all the rage in the 1950s, and a number of designers are bringing pink hues back. Whether it's for vanities, toilets, wall paper, or an accent wall, rosy hues provide a throwback look that's warm and unique.
Retro bathrooms are another great opportunity to use a unique antique dresser or cabinet as the vanity.
Colors
According to the home remodeling site Sebring, black is the new gray. We're seeing more of it not only in kitchens, but in bathrooms too. Just as dark gray and even black have become popular for kitchen counters, darker tones are also taking over in the bathroom. We're seeing more dark gray fixtures, such as on light fixtures and mirrors, and also in vanities, countertops, toilets, and tubs.
Some home designers are opting for dark gray walls with crisp white trim and other white accents. Gray presents sleek and modern high tech vibe.
Blue is a color that will never go out of style, but as is happening with gray tones, homeowners and designers are favoring the darker tones of the blue palette in their bathrooms. Coupling dark blue walls with contrasting white trims and bright and shiny chrome fixtures presents a strikingly attractive look.
Patterns
Patterns are back! Patterns can clearly define an era, and possibly because of the resurgence of retro design, homeowners are enjoying fun and splashy patterns in their bathrooms once again.
Patterns may appear in geometric flooring, with artfully designed tile patterns, or herringbone patterned backsplashes. Another popular pattern for 2019 is Greek key. This can be in wallpaper, tiling, or even the trim on bathroom towels.
According to Sebring, other patterns that are gaining in popularity, whether they're in wallpaper, in tile patterns, on the ceiling, or curtains, are hexagons, arabesque patterns, diamonds, Moroccan fish scales, and chevrons.
Super large floral prints are also appearing more and more in bathroom wallpaper and shower curtains. Undoubtedly, the popularity of patterns today means homeowners are feeling more creative and having fun with their bathroom decor.
Openness and Glass
Today, homeowners are favoring more openness in their bathrooms. This is manifesting in glass shower doors and fully enclosed glass shower rooms. Clean, geometrical lines and consistent colors also add to an open, calming feel. And built-in shower benches create a spa-like vibe.
New, High Tech Features
Just as high tech is taking over in other parts of the home, it's creating smarter bathrooms as well.
High tech bathroom features include electronic control panels outside the shower for consistent water temperature and pressure choices. There are also remotely controlled showers, so your shower is ready as soon as you get home from the gym. There are also doors and drawers that can be opened remotely.
Underfloor heating systems will keep your feet warm, whether your floor is made with tile, concrete, vinyl, or wood. And the new high tech bathrooms also have warming drawers that will heat up towels, robes, and pajamas.
According to Sebring, bathroom mirrors are also getting smarter. Now they include anti-fogging technologies and smart touch capabilities.
Bathroom lighting is getting more intelligent too, in addition to being more energy efficient. New smart mirrors are lit from behind, offering the best lighting to view yourself with, and high tech dimmers let you easily adjust the rest of your bathroom lighting for the perfect ambiance.
Wireless technology is taking over in bathrooms now too. Not only does it apply to your bathroom sound system (since everyone should have music in the bathroom), there are also wireless hair dryers and wireless voice activated lighting and temperature controls.
Of course, we haven't forgotten the most important bathroom feature of all: the toilet. Yes, there are now smart toilets too. The modern-day toilet includes remote and motion-activated lid and flushing controls. In addition, there are seat warmers and built-in deodorizers.
For what could arguably be the most important room in the house, the future certainly looks bright for bathrooms.
If you're also considering remodeling a kitchen, check out our post "2019's Hottest Kitchen Remodeling Trends."
Partner with Silicon Valley's Experts Property Management
As the leading San Jose property management firm, Intempus Property Management has been serving satisfied property owners from the North Bay to San Francisco, to the Peninsula and South Bay for over a decade. We provide a full suite of real estate and property management services that we always couple with our award-winning customer service. So, whether you're looking to buy, sell, or rent a property, contact us. One of our friendly experts will be happy to talk with you and answer any questions you have.