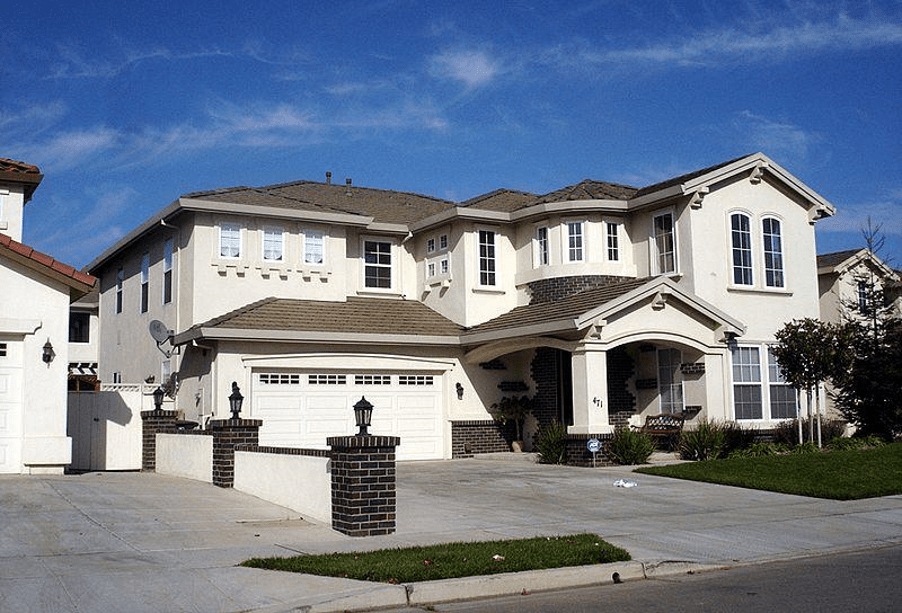 Many variables come into play when analyzing the real estate market to make optimal buying and selling decisions. This month, we take a deep dive into one of those variables, which is days on market.
Days on market, or DOM,  is an important metric that's specific to each market. It's  imperative for buyers, sellers, and their agents to have a handle on this figure because it plays a role in negotiations and other important decisions related to the real estate transaction.
What does days on market (DOM) signify ?
The period that a piece of real estate is actively available to sell before the seller ultimately accepts an offer is the DOM. When the average DOM is low, it signifies a market that favors sellers because sellers want to sell their property quickly.
A shorter DOM statistic means that are active buyers competing for real estate. The old saying, "Selling like hot cakes" describes a fast-moving sellers' market, with low average DOMs.
U.S. National Average DOM vs. the Bay Area
While different regions of the U.S. vary, according to Zillow, the DOM national average for the U.S. is between 65-90 days. However, this average encompasses a wide spread. For example, in Naples, Florida, where it takes a long time for homes to sell, the DOM is 145 days. In Bloomington, Indiana, it takes 66 days. And in San Francisco, as of Q2 2019, the average DOM was 30 days, according to data from Bay Area Market Reports (Compass).
Santa Clara County is also one of the fastest real estate sales markets, with an average DOM of 30-35 days according to Bay Area Market Reports (Compass).
Seasonality and DOM
There's no doubt that real estate sales are affected by the seasons, and DOM statistics reflect this. You will see that throughout the Bay Area, in the second quarter of the year, from April through June, homes sell faster than at any other time.
There are a few reasons why summer is the busier real estate season, when homes sell faster. Many buyers prefer to not move and undergo real estate transactions during the winter holidays, or when school is in season.
For buyers and sellers, the summer months have more supply – of real estate and buyers and sellers. While the winter months, for buyers at least, can mean there's less competition for homes.
You can see in the following charts how the speed at which homes sell is very seasonal, as well as how DOM has changed over the years.
Starting in the north, here are days on market for Marin County: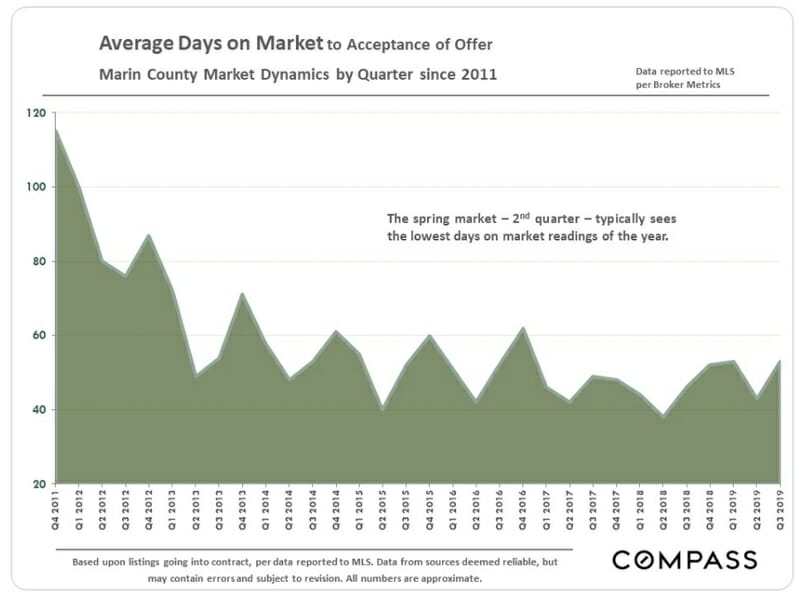 In Marin County, according to Bay Area Market Reports (Compass) data, you can see that the overall trend for the past eight years has been for homes to sell more quickly.
DOM Trends in San Francisco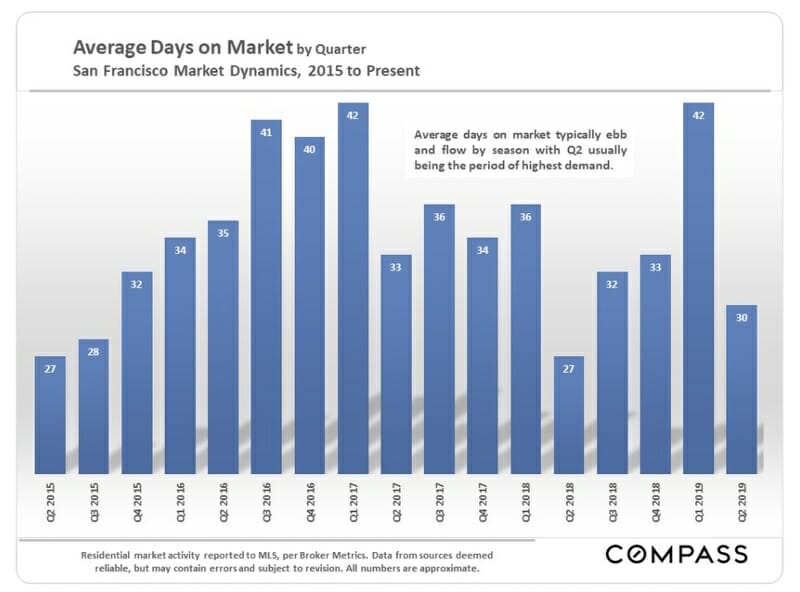 San Francisco has been more up and down than Marin, with Q1 of 2017 and Q1 of 2019 hitting a peak of 42 days to sell a home, according to Bay Area Market Reports (Compass).  But that number dropped back down, close to recently historic lows in Q2 2019 of 30 days.
San Mateo County DOM Trends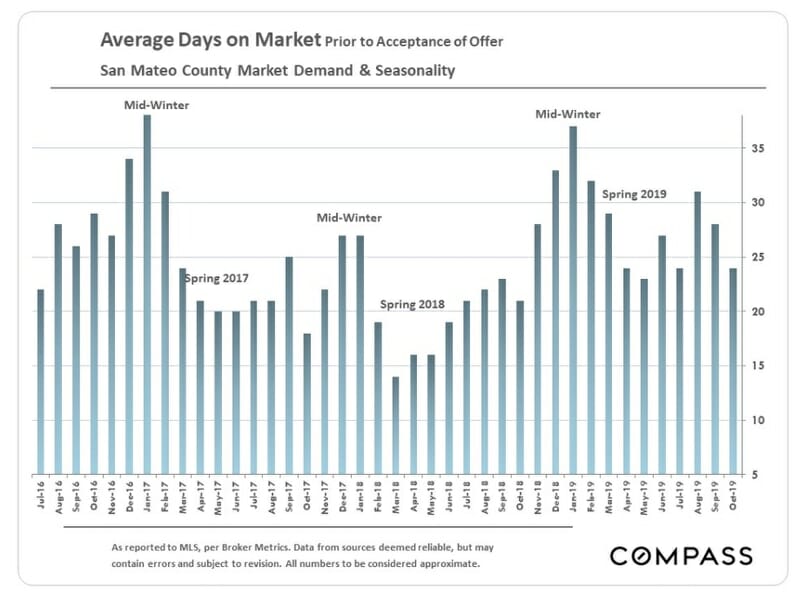 San Mateo County has also shown more consistency over the years, with mid-winter being the slowest time for home sales, and May generally being the fastest. The exception is March of 2018, during a lighting-hot market, when the average DOM for San Mateo County was less than two weeks.
East Bay DOM Trends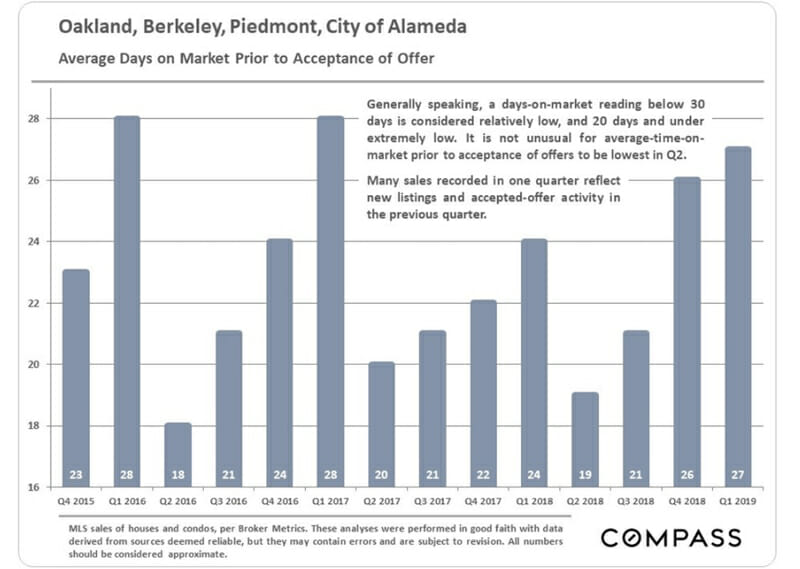 In the East Bay, homes in Oakland, Berkeley, Piedmont, and Alameda sell very quickly, according to Bay Area Market Reports (Compass). In this region of the Bay Area, throughout the year, homes sell in four weeks or less.
Santa Clara County Average DOM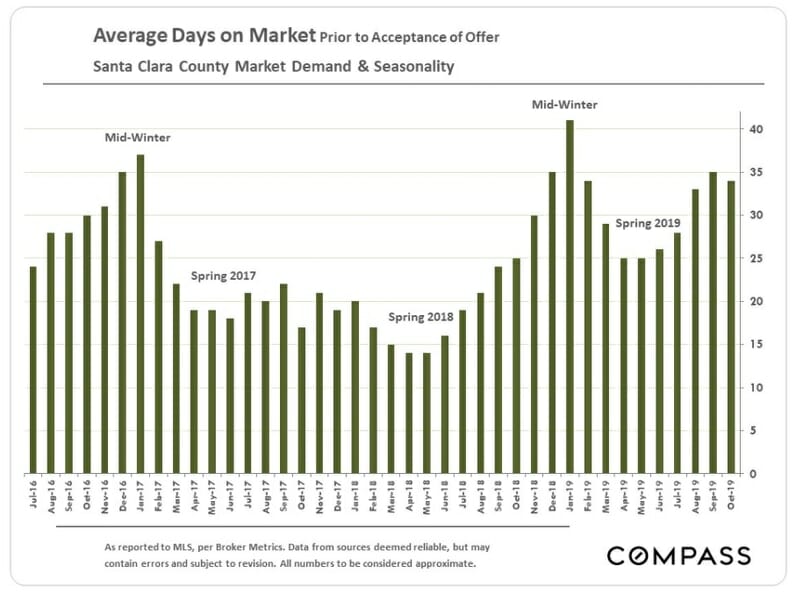 Like San Mateo County, home sales in Santa Clara County show similar seasonal trends. However, after the recent Bay Area real estate peak in 2018, days on market has been shifting upward in Santa Clara County, from 25 days in spring to 35 days in winter. Still, this is well below the national average of two-to- three months.
Santa Cruz County DOM Trends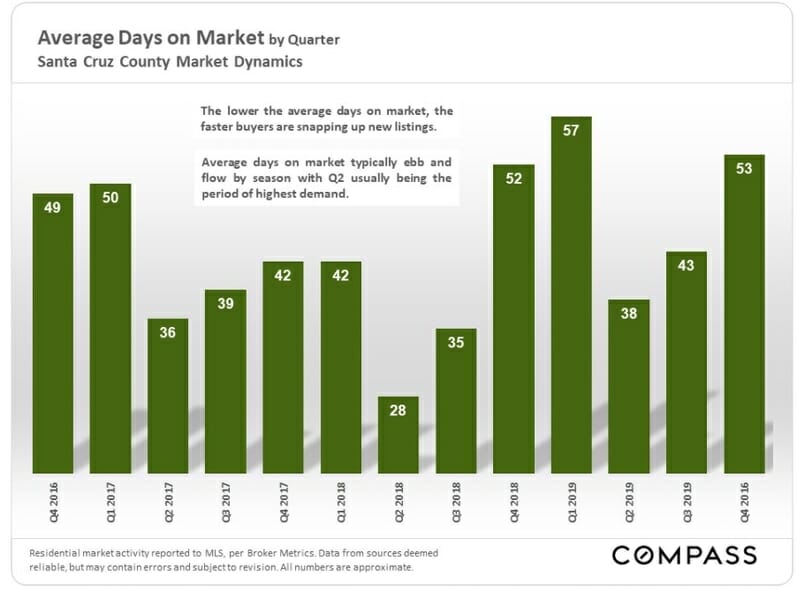 In Santa Cruz County, home sales take a little longer than other parts of the Bay Area, with a range of 38-57 days, similar to Marin County. However, this time period is still very fast compared to the rest of the U.S., especially during the busy summer season.
While 2018 marked an especially robust period for real estate sales, days on market across the Bay Area show this area is still a great place to invest in real estate, with homes selling faster in the Bay Area's nine counties than the U.S. national average.
DOM and Property Price Segment
In addition to seasonality, the type of property that's being sold also impacts how long it will take for the property to sell. Luxury homes take longer to sell than affordable starter homes for a few reasons. For one, the pool of buyers who can afford a luxury home is smaller than those who can afford less expensive properties. In addition, there are fewer comparables, or comps, for luxury homes, which makes pricing them more difficult.
Furthermore, starter homes generally have more competition from buyers because they are more affordable, as well as investors. Buyers who are purchasing a starter home for investment purposes tend to choose starter homes because of their affordability and marketability.
How can buyers, sellers, and their agents leverage DOM?
Like bread, homes for sale can get stale. A home that has just been listed is considered a hot item. Generally, homes listed for sale will get the most interest within the first 14 days of their listing. After that, especially in fast markets like the Bay Area, a home listing can be perceived as stale. New viewers may see that it's been on the market for 30 days, for example, and think that there's something wrong with it.
What It Means for Sellers when Listings Exceed the Average DOM
For sellers in the Bay Area, if a home doesn't sell in the first month that it's listed, it could mean that the home was priced too high. In that event, lowering the price and showing a price drop in the listing can generate new interest in the home – it refreshes the listing and can spur potential buyers to jump on the new opportunity.
In some cases, even with price reductions, a home may still not sell. In these situations, it may be best to withdraw the listing, rent out the property, and wait for better economic conditions to try to sell the property again. If a seller and their agent decide to withdraw the listing, they will have to wait 90 days to list it again, at least in the state of California.
What this Means for Buyers
For buyers, a home that hasn't sold quickly can present an opportunity to negotiate with the seller on prices, concessions, or both. But the buyer should be forewarned that if other potential buyers who came before them passed on the property, there could be issues with it, so it's best to approach the opportunity with a critical eye.
In any housing market, days on market is an important metric to understand, and it's one that is relative to the local market. The buyers, sellers, and agents who understand how to read this important figure will benefit the most from the real estate market, especially when it is highly dynamic, as it is in the Bay Area.
Get the Most from the Bay Area's Vibrant Housing Market
At Intempus Realty, we've been proudly serving clients throughout the greater Bay Area and Silicon Valley for nearly two decades. We put our clients first, and our five-star customer reviews speak for themselves. So, whether you're looking to buy, sell, or rent a property, contact us. One of our friendly team members will be happy to talk with you and answer any questions you have!
I wanted to have an intro chart so there would be a visual at the beginning of the post, but the post just didn't flow that way, so I just included a real estate image.
Reminder to make font size 14 headings H2