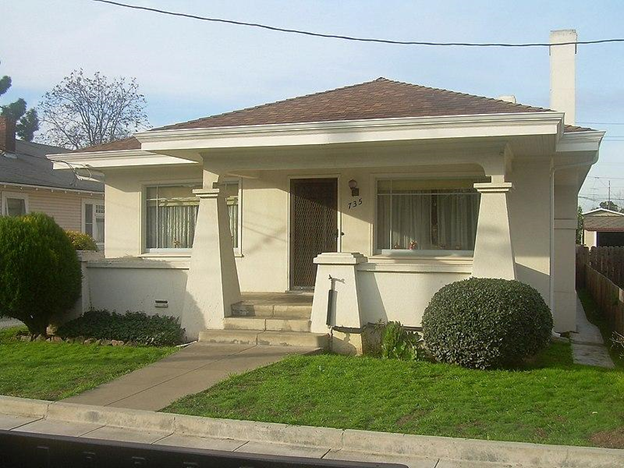 Just seven years ago, the median price of a typical single-family home in the Bay Area was around $425,000, reports the Mercury News. But since April 2012, that price has more than doubled to where it now stands at $900,000. But this doesn't mean there are no "bargains" in the Bay Area. It just depends on where you look and where you're willing to live.
Recently, a two-bedroom, one-bath home on 62nd Ave. in Oakland was listed at $408,000. And in Santa Clara County, a 600-square foot rural cottage in Morgan Hill, described as needing "thorough" repairs, was listed at $325,000. In addition, Alameda and Contra Costa counties have dozens of home in this budget price range.
But the quantity of these Bay Area budget homes is decreasing. Seven years ago, nearly 40 percent of Bay Area homes were listed for less than $425,000. Today, just 5 percent are.
"The prices are eye-popping," said Jeff Tucker, the chief economist at Zillow. Essentially, a professional couple who both work in tech can afford one of the $1 million-plus homes in San Francisco or San Mateo counties, he said. But people who make less than that need to search on the outer edges of the suburbs or deeper into some of the cities, such as in the East Bay or eastern North Bay.
You won't find any budget-priced home in San Francisco or San Mateo counties. And it's becoming rarer to find them in Santa Clara County. In addition, few homes in Napa and Sonoma counties are listed for under $425,000. About a quarter of the homes listed in Solano County are in that range. However, if you're willing to live in a less desirable neighborhood, you can find bargains and potentially some upside.
In the East Bay in Richmond, the median home price is $527,200, according to Zillow data. In Pinole, it's $519,100, and in San Pablo, it's $415,200. The typical home in these communities has about 1,000 square feet of living space. With BART, the commute from Richmond to San Francisco's Financial District is just 30-minutes.
The challenge in many of these communities is the crime rate and the public school system. Most of the homes have security fences, gates, and lockable reinforced metal screen doors.
"East Oakland is probably the most affordable place on this side of the bridge," said Denise Kees, a local real estate agent who grew up in Oakland. While she said that the crime rate has dropped in recent years, crime can vary "block by block." She advises people who are considering buying in these budget neighborhoods to "Look with your own eyes. Don't let old stereotypes and stigmas get in the way."
If you're looking for a Craftsman bungalow with classic features, such as wood floors, coved ceilings, and built-in bookshelves and china cabinets, and which has some upside, the East Bay is where you can find it.
Eric Wong, another East Bay real estate agent, told the story of a single-family home in an unassuming neighborhood in Berkeley that sold for $530,000 four years ago. He said a small developer saw potential with the large lot it was on and built three new units on the lot. Within a month, all were selling for more than $1 million each.
Get the Most from the Bay Areas Vibrant Housing Market
Intempus Property Management has been serving clients throughout the greater Bay Area and Silicon Valley for over a decade. As San Jose's leading property management and real estate firm, we provide award-winning services that consistently get five-star reviews from our clients. So, whether you're looking to rent, buy, or sell a property, contact us. We're here to help you with all facets of your rental, property management, and real estate needs. One of our friendly team members will be happy to talk with you!