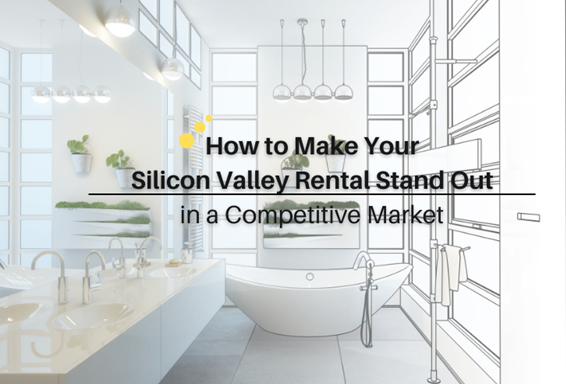 The Silicon Valley rental market enables landlords to command premium rents, especially for upgraded and well-appointed properties. With competition fierce for tech workers and families seeking housing, renters are drawn to nicely renovated and contemporary homes.
Implement these remodeling ideas to transform your Silicon Valley rental into a high-end oasis that rents quickly and fetches top dollar. 
Kitchen Upgrades
The kitchen is the heart of a rental property. Invest in appliances, fixtures, and finishes that appeal to high-end tenants.
Appliances: 
– Stainless steel fridge, stove, dishwasher, and built-in microwave
– Gas cooking range desired by home chefs
– Wine and beverage fridges for entertaining
Fixtures:
– Contemporary faucets in polished chrome  
– Undermount deep double sinks 
– Matte black hardware and pulls
– Motion sensor faucets and soap dispensers
Finishes:
– Quartz, marble, or granite countertops   
– Glass tile or stone backsplashes
– Shaker-style cabinetry in grey tones  
– Hardwood flooring or tile laid in patterns
Let Intempus guide you through the permitting process for any kitchen reconfigurations and contractor bidding for the work.
Sleek Bathroom Updates
Bathrooms should feel like a spa retreat. Install these high-end touches:
– Frameless glass shower enclosures
– Designer porcelain or natural stone tile  
– Undermount rectangular sinks  
– Sconce lighting flanking mirrors
– Upgraded multi-function showerheads 
– Heated floors
– Recessed niches for products
Intempus Realty can recommend reliable contractors to complete bathroom remodels efficiently with minimal tenant disruption.
Curb Appeal Enhancements
First impressions matter when renters drive by. Enhance front exteriors with:
– Fresh modern exterior paint color
– Professionally designed landscaping – flowers, lighting, pavers
– House numbers and exterior lighting
– New garage doors
– Paver walkways and patios
– Fences or shrubs creating privacy
Intempus Realty's design team provides suggestions to give your rental maximum visual appeal.
Smart Home Technology
Tech-focused renters look for automation and voice controls. Install features like:
– Smart door locks for keyless entry
– Smart thermostats controlled remotely 
– Integrated smart lighting systems
– Smart switches, outlets, and doorbells
– Multi-room audio streaming
– Garage doors openers with apps
Intempus can facilitate adding smart home tech that today's tenants expect.
Green and Sustainable Upgrades
Eco-friendly renters value energy efficient homes. Consider:
– Solar panel installation to offset bills
– EV charging stations in the garage or driveway
– Energy star stainless appliances 
– Dual-pane windows to reduce heat transfer  
– Tankless water heaters that heat faster
– Low flow toilets and faucets to conserve water
– Drought-tolerant and native landscaping
Intempus Realty stays current on sustainability upgrades that appeal to environmentally-conscious renters.
Outdoor Living Expansions
Silicon Valley's mild climate lends itself to indoor-outdoor living. Create additional usable space with:
– Expanded patios and decks
– Outdoor kitchens with pizza ovens 
– Fire pits or fire tables
– Pergolas for shade
– Outdoor furniture and accent lighting
– Hot tubs or small plunge pools
– Synthetic turf instead of grass
Intempus can ensure any outdoor additions meet HOA requirements.
Flooring and Finishes
Replace outdated carpet and floors with renter-friendly surfaces:
– Durable engineered hardwood in living areas 
– Wood-look waterproof plank floors
– Stylish tile in entryways, kitchens and baths
– High-quality padded carpet in bedrooms
– Fresh interior paint in light grey and white
Intempus Realty can coordinate flooring contractor installation so it's hassle-free.
With their pulse on Silicon Valley renter preferences, Intempus Realty will guide you through selecting the perfect upgrades for your property. Their vendor relationships help ensure renovations are completed on time and on budget. 
Transform your rental into a prime property in demand across the Silicon Valley market. Contact Intempus today to maximize your rental's potential with strategic upgrades.