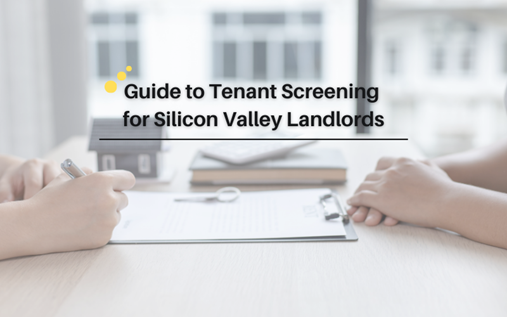 Thorough tenant screening is crucial for landlords to minimize risk when leasing out properties in Silicon Valley's competitive rental market. The tenant approval process should evaluate applicants in key areas like credit, background, income, rental history, employment, and references. By following fair housing laws and documenting screening procedures, landlords can make objective data-based choices to select responsible, reliable tenants. Here are the best practices for navigating tenant screening in Silicon Valley.
Review Rental Applications in Detail 
Rental applications allow landlords to gather critical information to assess prospective tenants. Typical applications will request:
– Full legal name and contact information
– Date of birth and social security number
– Current and past home addresses for at least two years
– Employer name, position, income, start date
– Bank accounts and assets
– Credit history authorization
– References from prior landlords and employers
– Emergency contact information
– Vehicle information like make, model, and license plate
Carefully reviewing completed applications provides a baseline for verifying and investigating applicants further. Make sure forms are filled out and details are consistent before proceeding.
Run Credit Checks and Reports
One of the most important tenant screening steps is checking credit history. Landlords can purchase credit reports from third-party services like TransUnion SmartMove, Experian RentBureau, and CoreLogic SafeRent. Reports should show details like:
– A credit score – Aim for 610 minimum on most Silicon Valley rentals
– Payment history – Look for consistent on-time payments
– Derogatory marks – Monitor collections, judgments, bankruptcies
– Debt-to-income ratio – Keep below 30% ideally
– Recent credit inquiries – Too many can signal high risk
Credit reports predict the likelihood of missed payments based on past financial behaviors. While credit alone shouldn't disqualify tenants, it provides crucial insight.
Do Criminal and Eviction Background Checks
It's also essential to run background checks looking for:
– Criminal records – Focus only on convictions relevant to tenancy
– Sex offender status – Use national registries
– Eviction history – Look for prior unlawful detainers
Many landlords order full background reports from specialist screening firms. However, bear in mind that arrest records and convictions older than 7 years cannot be considered in California. Only take into account major convictions when assessing tenant risk.
Verify Income and Employment
Ensure applicants have stable jobs and earn enough income to afford the rent. Options to confirm employment and income include:
– Calling the employer's HR department directly
– Requesting current pay stubs documenting year-to-date earnings
– Obtaining bank statements showing regular direct deposits
– Asking applicants to provide an employment letter
– Viewing tax documents like W2s and tax returns
Income should total 2.5-3x the monthly rent or more. Watch for any discrepancies compared to what tenants list on their applications.
Check Rental References 
Speaking with an applicant's current landlord and previous landlords can provide insight into their reliability. Important questions to ask include:
– How long did the applicant rent from you?
– Were rent payments made on time consistently?
– Did the applicant take care of the property properly?
– Were there any complaints or conflicts with neighbors?
– Would you rent to this tenant again?
Reference checks should reveal if any red flags exist like unauthorized pets, late payments, lease violations, or property damage.
Follow Fair Housing Requirements  
Landlords must avoid discrimination in tenant selection based on race, color, religion, sex, disability, familial status, and national origin. Do not ask about protected characteristics or make decisions based on them. Stick to objective criteria like those outlined above when screening candidates.
Document the Entire Process
Take steps to demonstrate thorough and lawful tenant screening procedures like:
– Using standardized screening criteria and rental applications
– Creating a rental approval checklist to follow consistently
– Keeping detailed notes on each applicant for reference
– Sending denial letters to rejected applicants outlining why
Clear documentation protects landlords if any screening decisions are challenged.
Following structured tenant screening best practices minimizes the risk of rental income loss and legal trouble down the road. However, the process takes substantial time and diligence to complete properly for each applicant. Partnering with a property management company like Intempus provides a major advantage.
Our experienced staff have screened thousands of Silicon Valley rental applicants over a decade in the industry. We handle every aspect of tenant screening professionally using standardized processes that comply with all local, state, and federal laws. This provides landlords invaluable protection and peace of mind.
Contact Intempus to learn more about our tenant placement services focused on identifying responsible, reliable renters for properties. Our expertise and efficiency in screening tenants allow you to reduce risk and focus on other aspects of owning and managing investment properties.