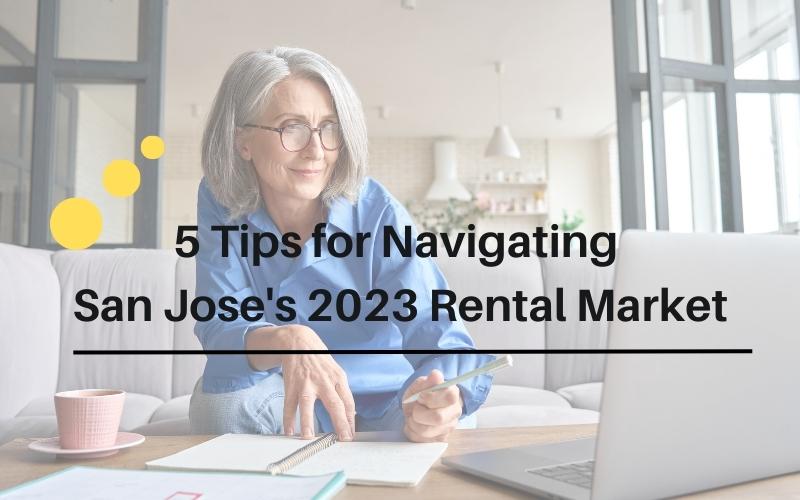 Searching for the ideal rental in San Jose's ultra-competitive housing landscape can feel daunting. With rising demand, limited inventory, and multiple applicants per listing, it may seem impossible to find your perfect home. But take heart! With proper preparation and insider tips from local rental experts, you can successfully navigate leasing in 2023.  
As seasoned real estate professionals based in the South Bay, we want to provide actionable advice to empower your rental search this year. By starting early, getting organized, broadening your search, and leveraging resources, you can gain an advantage. With strategic planning, persistence, and the right support, you can thrive in San Jose's cutthroat rental market.
Tip #1: Kick Off Your Rental Search 2-3 Months in Advance
In a market as saturated as San Jose, it pays to start early. Begin searching for rentals approximately 60-90 days ahead of your ideal move-in date. This timeline gives you ample opportunity to view potential units, submit applications, get approved, and finalize lease paperwork in advance of when you need to move. 
Many property management firms in San Jose advertise upcoming rentals 6-8 weeks prior to availability. You'll gain valuable lead time by keeping close tabs on new listings coming online weeks before your move date. Set up alerts and check rental sites like Zillow, Apartments.com, and Craigslist frequently to be among the very first to inquire and tour new units matching your wish list. Scheduling viewings as soon as listings appear is key to getting a foot in the door ahead of the packs of other eager applicants.
Tip #2: Get Your Paperwork in Order  
To make a stellar first impression with landlords, you need to have all required documents organized in advance. Prepare a thorough rental resume folder that you can provide immediately upon viewing a unit. This should include:
– Proof of Income: Recent pay stubs, W-2s, tax returns showing your income, bank statements demonstrating steady direct deposits. You need to document earnings 2.5-3x the monthly rent.
– Credit Report: Obtain a current copy of your credit report to share. Excellent credit in the 700+ range is ideal. 
– References: Expect to provide 2-3 prior landlord references and character references. Reach out to these contacts early to ask if they will vouch for you. 
– Rental History: Have documentation like past leases and landlord contact info available.
– Funds for Move-In: Plan to pay first month's rent plus a security deposit equal to (or higher) than one month's rent when signing.
Having all your ducks in row with needed paperwork demonstrates you're an ultra-prepared, qualified applicant landlords want to approve.
Tip #3: Spotlight Your Strengths as a Tenant
With the landlord holding all the cards, it's essential to highlight qualifications separating you from the competitive pool of applicants. Emphasize any compelling assets in your cover letter, such as:
– 750+ credit score indicating financial responsibility
– 5+ years at current job proving stable employment  
– Perfect rental payment history without any late payments
– Multiple glowing references from past landlords
– Long tenure living/working in the San Jose area 
– Significant savings set aside for this move
The more advantages you can tout, the better. If you have any blemishes in your application like credit dings or rental gaps, transparently address these.
Tip #4: Expand Your Search Territory
While downtown San Jose is often the most coveted area, you may have better luck finding vacancies in adjacent neighborhoods within a 20-30 minute commute. Great options lie in communities like Campbell, Santa Clara, Cupertino, Sunnyvale or Mountain View. Many renters have success looking in suburbs along Caltrain transit lines. Cast a wide net in your specified search zone.
Tip #5: Leverage a Rental Broker to Gain an Edge
Working with a knowledgeable rental broker or agent can provide significant advantages for navigating San Jose's hyper-competitive environment. Brokers have insider access to listings before they hit the open market. They can schedule viewings, assist with applications, provide negotiating tips, coordinate interactions with landlords, and more. Their expertise helps clients find hidden gem rentals that align with priorities. Experienced brokers become trusted advisors for charting the optimal path forward in this landscape. The connections and insights a broker brings to the table can make a world of difference in finding renter success.
With the right mix of preparation, persistence, and resources, you can absolutely land your dream rental even in daunting markets. Lean on these pro tips from local real estate experts to confidently tackle your San Jose search in 2023. For personalized guidance from a top brokerage, contact Intempus Realty. Their seasoned team has their pulse on emerging inventory and can provide the clarity needed to find your ideal home. Partner with knowledgeable professionals to gain the upper hand. Wishing you the best of luck securing your perfect rental this year!