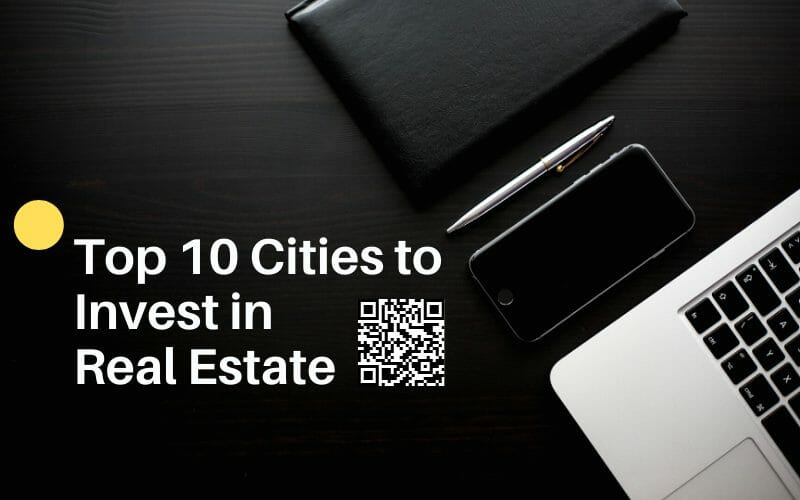 Real estate is never going to cease being exciting, opportunity-filled, and most importantly, profitable! The industry remains appealing for both new and experienced investors since mortgage and interest rates are consistently low, and the niche will always stay relevant. After all, everyone needs land and a home! 
And, with a pandemic wrapping up, the demand for housing is stronger than what we've seen in many years. That's why we're here to help! With the right timing and the right location, you can reap the finest benefits that real estate investing has to offer. This article will cover the top 10 cities to invest in real estate right now!
1.  Houston, Texas 
With a population of 2.3 million and being the fourth most populous city in the country — Houston has been and continues to be a real estate hotspot! The volume of trades is high and housing stock moves fast, allowing you to enter and exit investments at a moment's notice. The real estate scene itself is relatively easy to enter since housing real estate is cheaper in Houston than it is in other parts of the country. 
More importantly, people want to move to Houston. If you establish your rental property now (and take good care of it), you'll be able to generate a passive income in no time. After all, Houston is the #1 market in the United States for job creation and it's home to more Top 500 companies than everywhere else in the country except New York! 
2. Boise, Idaho 
According to Realtor.com, Boise has the #1 housing market in the entire country! Two of the primary reasons for this ranking are that population and job growth are 3x that of the national average. Another reason that the Boise housing market is so rewarding is because of how tight the inventory itself is. With a limited amount of property available, the competition is high and housing prices are rising sharply. It may be hard to enter the real estate market, but once you do, you can expect great returns on your investments! 
3. Orlando, Florida 
Florida remains a top contender as a real estate hotspot because of the fun to be had there! 
With a decent population of over 300,000 and 76 million tourists a year, investors have the option to invest in the long-term residential or holiday markets — which are both very profitable. Even more, Orlando's growth as a real estate center has no sign of stopping. After all, Forbes previously ranked them as the #2 fastest growing cities in America! 
4. Birmingham, Alabama 
Being the most populous city in Alabama (with over 290,000 residents), Birmingham has a lot to offer in terms of real estate. What makes Birmingham distinctively different from the rest of our choices is how affordable the housing is. The median home price was listed as $64,840 which is a fraction of what you would pay in other states. With a diverse economy and cheap housing. Birmingham attracts people from all over the state. As an investor, it's also relatively easy to break into the real estate scene since property prices are affordable. 
5. Durham, North Carolina 
Durham gets a spot on our list because of how much growth it has made since the housing bubble burst! Only 2 years after the initial burst in 2008, Durham was considered one of the few favorable places to invest in. Currently, the city is a seller's market, meaning that many people are trying to move to or buy property from Durham. The city also has a track record as one of the best hotspots for long-term investments. Even more, many universities (such as Duke) are located in Durham and that creates a stimulating economy. All of these factors help rank Durham as one of the top cities to invest in right now! 
6. Colorado Springs, Colorado 
With an appreciation rate that's significantly faster than the national average, the real estate scene has been seen trending upwards without any signs of slowing down. Compared to other cities in the Rockies, the $320,000 medium housing price is appealing to residents since it is affordable. For investors, the homes are appealing since the prices will continue to rise as time goes on.  
Despite cheap prices, Colorado Springs was ranked U.S. News and World Reports as the 2nd most desirable place to live. This is great news for investors! 
7. Seattle, Washington 
Did you know that the most recent U.S. census places Seattle 4th in growth among the 50 biggest cities in the country? That alone is an amazing feat that propels Seattle forward as an investment center. With Washington ranking #1 in education, that's part of the reason why more and more families are moving to Seattle every year! For an investor, single-home or apartments are a great investment in the bustling Seattle area. 
8. Charlotte, North Carolina 
Charlotte is another bustling area from North Carolina that investors can't miss! The business-friendly environment of the city has pushed rapid population and job expansion forward, and house price gains have consistently risen 5 years in a row. As a seller's market, you will have a buyer regardless if you are buying and holding or flipping homes. Even more, Charlotte is now a U.S. finance center that can only be rivaled by the big apple itself! 
9. Columbus, Ohio 
Despite the slow population growth in Columbus, there are still ample opportunities for real estate investors there. Between 2013 and 2021, the prices of houses have consistently increased due to a limited number of family-friendly homes. The 4% unemployment rate is considerably better than the nearby areas, and as a result, many people seek opportunities in Columbus.
10. Las Vegas, Nevada 
Throughout its history, Las Vegas has experienced several economic booms. This recent year is no exception! Las Vegas has seen booms in new businesses at a much higher rate than the national average, propping up and stimulating the economy simultaneously. The Las Vegas valley serves as the leading financial, commercial, and cultural center in Nevada — further increasing your opportunities to have success with your real estate investments.