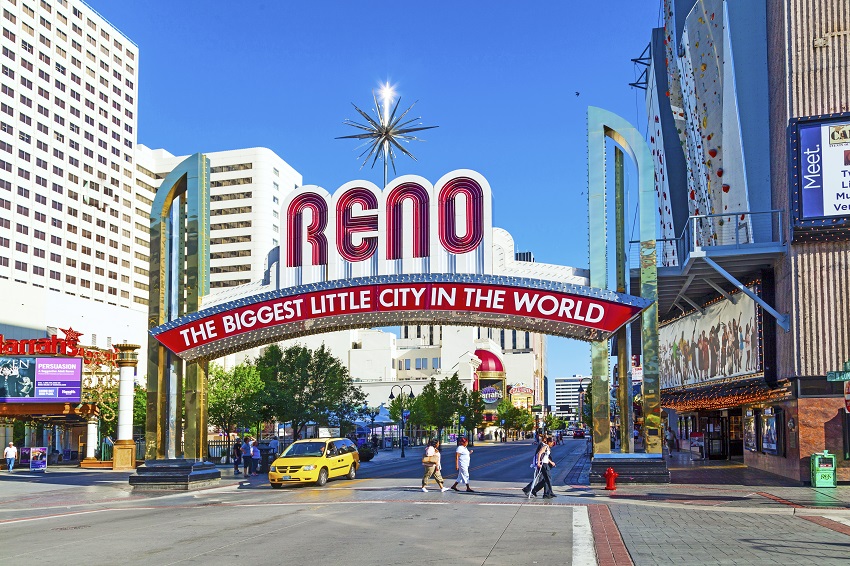 If you're looking to expand your real estate investing portfolio, then Reno, Nevada has probably piqued your interest as an investor. 
Here are some key stats to keep in mind before you start looking at property. Known as the Biggest Little City, Reno has a population of about a quarter million people. The metro area is made up of suburbs surrounding Lake Tahoe with a population of almost half a million, making the Reno metro real estate market all the more popular. The median age for the area is 35 which is below the state average of 38 and represents the large working class and potential rental community in the booming area.
The city of Reno, also known as Biggest Little City, is home to about a quarter-million people. The Reno metro area includes suburbs around Lake Tahoe and gives the area a population approaching half a million, which makes the Reno metro real estate market much bigger.
Over the last several years, Reno has seen consistent real estate appreciation; for example, the real estate appreciation in the last quarter was .75%. Earlier this year in April, the median price for single-family homes also went up to a record high of $416,500. 
Due to favorable tax and business laws, Nevada is a popular place for businesses who are choosing to move or create additional locations in the state. As a result, the state economy continues to grow and a younger workforce, notably the number of potential renters, continues to increase. Specifically, the tech industry including companies like Tesla, Switch, Intuit and Panasonic have taken advantage of the Nevadan opportunities leading to increased job opportunities.
The opportunities for profitable real-estate investing in Reno are compelling for investors who are interested in seeing their properties continue to go up in value for years to come. The following market trends give insight into why many are looking to Reno for their next rental property investment and why you should too.
To start, Reno is in the top 10% of cities for real estate appreciation with an annual real estate appreciation rate of 6.75%. Moreover, there is increasing demand and limited supply in the area resulting in a 'seller's market' and rising prices for attractive units on sale. In May 2019, the median house price broke $420,000 after it's 2018 high of $404.500.
In March 2020, the median sales price for a single-family home was $430,000 which is an increase of 10% from the previous year. Similarly, in March 2020 the median sales price for a condominium or townhouse was $262,500, a 3% increase from the previous month. It's clear that despite fears or prices plummeting because of the pandemic, the value of properties in Reno continues to go up. And since 2012, the median home prices in Reno have appreciated by about 143% from $166,000 to $403,318.
According to Movoto.com, the number of house resale inventory in Reno is 676 as of May 2020, which is a 12% decrease from the year before. 
The following table has additional facts to help illustrate Reno Real Estate Market in the past years
Courtesy of: https://www.noradarealestate.com/blog/reno-real-estate-market/
There is a mixture of owner and renter occupied housing opportunities with one to two bedroom, single family homes being the most common. Nationally over the last three years, single-family rental homes have increased by 30% which is fitting because single-family homes make up 50% of Reno's housing units. Other investment properties include apartment complexes, duplexes, and homes that were converted to apartments.
Due to aggressive building efforts to meet demand in the area, As of May 2020 there were 2,103 homes for sale and 321 homes for rent in Reno on Realtor.com. Based on this, Reno was declared a buyer's real estate market because there were more homes for sale than buyers interested in investing.
In April 2020, the median list price for homes in Reno was almost $330,00 which supported the downward trend of about 19% each year. Sellers in Reno have statistically been able to sell homes for about 99.5% of their asking price, which is impressively close to the always sought after 100%.
The numbers and developmental trends in Reno continue to be interesting for potential investors. 
For example, Reno is located near Lake Tahoe and the Californian border, making it a popular tourist area. It is a popular choice for summer and winter vacations as an attractive alternative to the craziness of Las Vegas. This has resulted in economic growth in the city. In fact, Reno saw 5 million tourists passing through the city in one year alone which is comparable to Las Vegas, even though investment properties in Reno are notably more affordable.
Also, as of May 2020, the median household income in Reno was $51,000 which is less than the Nevada average. However, in the past 5 years, the home price has steadily appreciated to over $100,000 more. Because of this contrast, many locals cannot afford larger rental property investments, giving outside investors a great opportunity to get in. 40% of the residents in Reno live in rented units because many seasonal employees are uncomfortable buying and committing to the area. The large number of tourists and students with consistent economic profiles make them a reliable renting population.
The rate of appreciation for homes in Reno will most likely not increase at the same rate as it has in the past because demand has not kept up with supply, making prices more attractive for potential buyers ready for a long-term investment. About 10% percent of homes in Reno are vacant, mostly located in tourist areas around Lake Tahoe and the city's downtown area and owned by secondary homeowners. Interestingly enough, Reno has a sizable shortage of affordable houses, which is defined as a home that costs less than $360,000. Part of this stems from a shifting developer focus onto more luxury style homes around Lake Tahoe which resulted in 
The Reno housing market is experiencing a housing shortage. The Reno real estate market has the greatest shortage of affordable houses. That's defined as anything costing less than 360,000 dollars. This is partially due to developers focusing on building luxury homes in the area, especially in and around Lake Tahoe. This explains the 5% increase in property values in the Reno real estate market in 2019 which is projected to continue with a 2% increase by the end of 2020. More conservative analysts speculate that the prices may not change until the first few months of 2021 due to COVID-19.
The student population of Reno also makes it an attractive rental property investment opportunity for buyers. The University of Nevada, Reno is the second largest university campus in the state after Las Vegas with about 18,000 students attending the school. There is another school in the area, Multnomah University, as well as the National Judicial College which specializes in training judges around the world. These make up a large amount of annual potential renters in the area who will be looking for short-term housing and be uninterested in buying themselves. A popular pick is buying a house with a view in the University Area because it is popular with both students and families.
The national number of homeowners is going down and resulting in more millennials who opt for renting because they are not prepared to buy homes. In fact, millennials made up 22% of the American population in 2018. Because of increasing prices and a shortage of affordable homes for younger families, millennials opt for renting especially when student loan debt makes it more difficult to qualify for a mortgage.
It's clear from the trends over the last few years that overall, Reno rental properties are clearly increasing in value and getting into the market sooner rather than later would yield the most return on your investment. If you're interested in learning more about rental property investment opportunities in Reno and potential property management resources, please contact us.