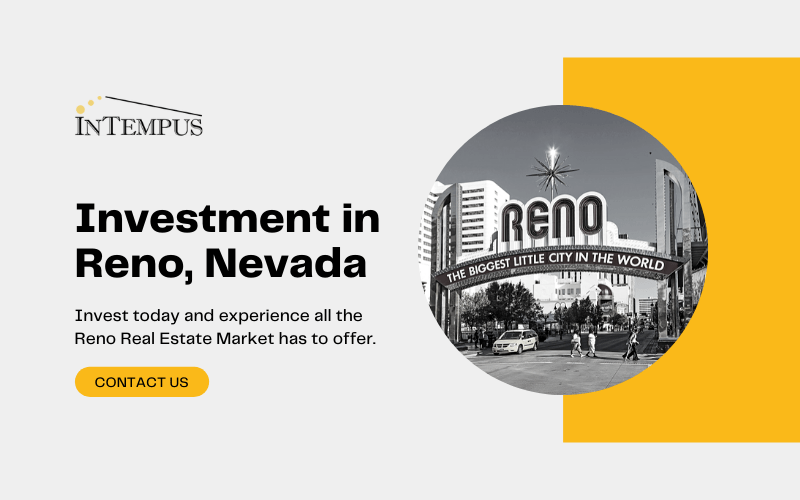 Real Estate Investment is a massively growing sector in the local economy and according to current trends, Nevada is the place to invest in land and housing. However, most investors tend to keep their focus primarily on Reno and ignore Reno, often regarded as the largest small little city in the country. In this article, we are going to go over the things to consider when trying to tap into this growing investment market.
Why should I invest In Reno?
Over the past few years, the Real Estate market has been booming and has been growing and growing since the early 2010s after the housing market crash. This has happened for two main reasons.
The first main reason is the growth of the local economy, particularly in technology. Massive tech giants like Switch, Panasonic, and Tesla have flooded the city with massive high-paying job opportunities and thus economic investment from newcomers to the once small city.
Secondly, Reno has had limited housing for its local population and as such local housing construction has also been growing every year. They continue to grow and grow and as demand for housing grows faster than new homes can be built, there are massive opportunities for investors to make a killing in the foreseeable future.
Get to know Reno
The first thing you must do is get to know the area and maybe plan a trip to acquaint yourself with Reno. You should look for the areas where you want to invest, and which Reno properties may serve you or your firm's future investment goals well as time goes on. It can often be a massive issue if you do not know the area where you are investing, and it can lead to mismatches between your investment objectives and the real estate in question.
Reno is one of the best towns to look at when you are trying to invest. Reno is located only 45 minutes from Lake Tahoe and all of Nevada is experiencing massive investment growth as many investors are choosing to leave neighboring California. There are a growing number of businesses, trades, and jobs that are also influencing the real estate and rental market statewide. Homes at the moment are ripe for purchase for investors looking to turn a profit in the coming years.
Figure out where and how much you want to invest
Once you have gotten to know the city a little better, you should pinpoint the exact location and property type you want to own. Reno is filled with a bunch of smaller neighborhoods, and you could invest in tons of growing communities like Midtown, Arrow Creek, or Somersett.
Also, as cliché as it may sound, you should talk to residents and local businesses to find out which parts of town are the most well-liked and sought after. When you are purchasing property, you will want to choose something high value that will entice new renters or even buyers. Therefore, it would really help to find out which parts of town are best liked by the locals.
Look at your firm's investment capital
As an investor, you need to examine what you or your firm's overall liquidity is and invest accordingly. You do not want to make an investment that goes against your best interests so make sure you do the proper data work before you choose to invest.
Another thing to keep in mind is that Reno's recent growth rate has driven sales prices up a bit and value is increasing almost every year. While this is definitely beneficial to you and your firm since you may receive some great returns, you also need to figure out if the property you want to purchase is within your budget range.
At the end of the day, this is a business decision and should not be made rashly. There is nothing worse than purchasing a property after buying a loan and having to make payments every month that exceed the profits you make from the renters at the property.
Find the right Partners
At the end of the day, it may help to work with other investors as you try to break into Reno's market. It may prove prudent to work with someone who already owns property in Reno and learn as much as you can. Fellow real estate investors will be a massive asset and will help get you in touch with people who can help provide you with the right foresight and knowledge to decide. Working with the right people can often make massive differences in your future profits.
How much control do you want over your investment?
As an investor, some may want to exert control over their property, and some may view that as pointless. Many out-of-state investors may hand over control to trusted firms and management companies that can help maximize their profits without much involvement on the investor's part. Some investors also may not be able to keep an eye on their property or renovate it so you should determine if you can or cannot and act accordingly. 
However, it should be noted that Reno is one of the best new places for an out-of-state investor and there is infrastructure in place for you to hire other management companies to exert control over your property for you. Specifically, investors from California, Arizona, and Texas have sold some of their property in their home state and have exchanged some of them at the 1031 exchange for property in Reno. Asset values are at the point that you could make a killing from passive income and if you purchased a property in 2015, you could sell in 2020 and have an ROI of over 100 grand.
So what are you waiting for? Invest today and experience all the Reno Real Estate Market has to offer.