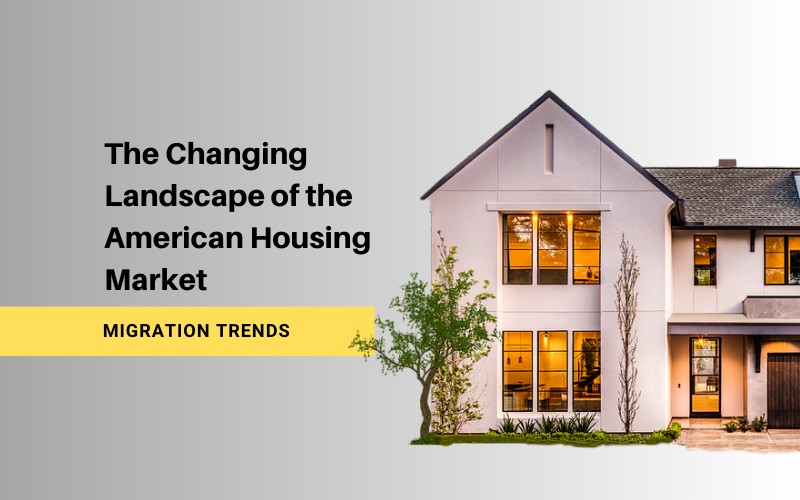 Understanding the Impact of Affordability Concerns on Migration Patterns in the US Housing Market
The American housing market is undergoing a major transformation, as increasing inflation and housing prices in big cities are forcing people to seek refuge in states with warmer climates, lower costs of living, and job opportunities. A recent analysis of census data by the National Association of Realtors (NAR) shows that many Americans are moving in response to affordability concerns.
The COVID-19 pandemic has played a role in these migration patterns, as it has provided more people with the opportunity to work remotely, thus fueling demand for more space. However, despite these conditions, the overall migration rate has declined, reaching a historic low in 2022, according to The Brookings Institute. This is due to factors such as rising mortgage rates, which have made migration less appealing, and a long-standing decline in migration rates since the post-World War II era.
Despite the overall decline in migration, long-distance migration between states has increased in recent years. This trend can be attributed to the rise in forced early retirements and voluntary job quitting, which has enabled people to move to other states in search of better job opportunities or more affordable housing. According to the NAR data, the states with the most population growth in 2022 were Florida, Texas, North Carolina, South Carolina, Tennessee, and Georgia, with low taxes being a major attraction for people moving to these states.
However, not all states are seeing an increase in population growth. States with high housing costs, high taxes, and slow job growth, such as California, New York, Illinois, New Jersey, and Massachusetts, have seen the biggest loss of residents in 2022. High real estate prices in urban hubs, such as San Francisco, and slow job recovery in some states have been the driving factors behind this trend.
The NAR data also shows that housing-related moves have become even more common during the pandemic, with 46% of Americans moving for housing-related reasons in 2021, up six percentage points from the previous year. This trend highlights the important role that the housing market plays in shaping migration patterns in the country.
In conclusion, the housing market is playing a critical role in shaping migration patterns and population growth in the United States. The COVID-19 pandemic and the rise in remote work have driven people to seek more affordable and spacious housing, leading to an increase in long-distance migration between states. Investors can take advantage of these trends by analyzing migration patterns and identifying areas with future growth potential.
Contact Intempus Realty for more information on the current state of the housing market and how to invest in real estate.