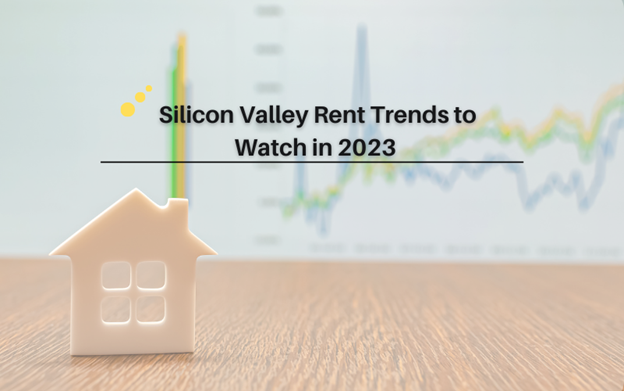 The Silicon Valley rental market has seen dramatic swings amid the pandemic and rising inflation. High demand, low vacancies, limited construction, rising rates, and moderating job growth will shape conditions in 2023. Both macro trends and micro market forecasts point to continued rent growth ahead, though likely moderating from 2022's rapid gains. Here are the top rental housing trends experts are projecting for 2023 across the Silicon Valley region.
Overall Rent Growth Projections 
Forecasts call for Silicon Valley rents to continue rising in 2023 but at a more moderate pace versus 2022:
– Redfin projects San Jose metro rents up 11% in 2023, slowing from 15% growth in 2022
– Zillow expects overall Bay Area rents to rise 5.3% in 2023 compared to 10.3% in 2022
– RealPage forecasts the San Jose/Sunnyvale market seeing rents increase 8.6% in 2023, down from 12.5% in 2022
The strong rebound in rents from pandemic lows will begin to taper off. However, 5-10% projected gains remain robust by historical standards. Ongoing population and job growth coupled with extremely low vacancies will sustain demand against still limited new supply being delivered.  
Vacancy Rate Outlook
With rent increases significantly outpacing new housing development, vacancies across Silicon Valley are expected to remain extremely tight in 2023:
– Zillow predicts the East Bay vacancy rate could hit a miniscule 1.5% in 2023 based on current construction trends. This would make finding an open rental even more competitive.
– RealPage forecasts the vacancy rate in the South Bay area dipping to just 2.4% in 2023, down sharply from 5.2% in 2020 during the pandemic. 
– Redfin saw the San Jose metro vacancy rate at just 0.4% in Q3 2022, among the lowest levels in the entire country. 
This hyper-low vacancy environment allows landlords to be highly selective among the applicants vying for their limited openings. Well-qualified renters ready to sign immediately will fill vacancies faster than ever.
Micro Market Rental Trends to Watch
Drilling down into specific submarkets across Silicon Valley provides added insights on local growth dynamics:
– Downtown San Jose rents could jump 17% in 2023 amid the city's ongoing revitalization and development efforts. High-rise apartment demand remains strong.
– More affordable suburban cities like Cupertino, Sunnyvale, and Santa Clara may lag core urban markets in 2023 as extensive new housing stock comes online.
– West San Jose and Santa Clara should see rents continue surging as tech giants like Google, Apple, Nvidia and others aggressively expand.  
– Established Peninsula markets like Redwood City and Palo Alto will remain at the epicenter of South Bay housing demand, especially for professionals.
– Rents in Mission Bay and Dogpatch in San Francisco will likely be pushed higher thanks to the ongoing expansion of the UCSF campus and surrounding life science hub as well as the opening of Chase Center. Proximity to these major anchors draws tenants.
– Secondary East Bay cities like Oakland and Fremont should capture significant overflow housing demand from ultra-expensive San Francisco. Displaced residents often look here for more budget rentals relatively close by.
Evaluating conditions and trends in specific submarkets allows landlords to more optimally target their real estate investments. Seeking affordability can mean considering outlying areas, but these must be balanced with demographic trends, employment growth, and development pipelines to identify emerging neighborhoods with upside potential.
Potential Moderating Factors on the Horizon
While the overall economic and rental market outlook remains positive heading into 2023, some risks could cool Silicon Valley's housing market at least moderately:
– A recession and widespread job losses – if the tech sector or wider local economy weakens significantly, displaced workers would reduce housing demand.
– A potential surge of new apartment construction fast-tracked to market – if more units are permitted and delivered, rent increases could normalize. But supply remains constrained currently.
– Local tenant protections enacted to limit annual rent increases – more Bay Area cities joining those with rent control policies would restrict pricing power.
– Higher vacancies persisting post-pandemic – if remote work continues expanding long-term, tenants may leave for cheaper regions thereby increasing local unit availability.
– Lower income service workers and younger residents seeking housing in more affordable markets as local rents climb out of reach. Displacement to periphery cities could balance demand somewhat. 
Savvy real estate investors keep apprised of market risks and adjust their portfolio strategies accordingly. But overall economic conditions and rental dynamics remain constructive in the Bay Area for those pursuing opportunities.
What Landlords Should Prepare For in 2023
– Expect upward pressure on rents to continue but likely moderate to single digit percentage increases versus 2022's rapid double digit gains. 
– Make tenant retention a priority by limiting rent hikes on renewals. Reward loyalty.
– Strategically seek out value-add investment opportunities in specific neighborhoods poised for appreciation.
– Be cautious about over-extending and assess recession sensitivity if the economic or tech outlook deteriorates. Maintain healthy reserves and leverage.
– Carefully weigh rent increases against vacancy risk and implement strategically as appreciation trends downward.
– With vacancies limited, be prepared to fill any openings very quickly with quality applicants.
In these uncertain times, partnering with experienced and knowledgeable property managers provides critical stability for landlords' rental portfolios. Intempus Property Management provides on-the-ground support to optimize properties throughout fluctuating market conditions. Connect with us today to position your real estate investments for success in 2023 and beyond! Our team is here to help you capitalize on favorable Silicon Valley rent trends.