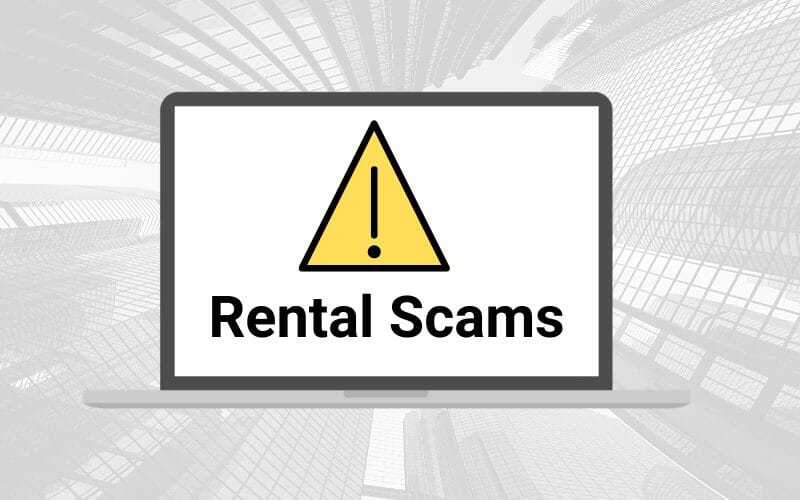 Nevada has been and still is home to a booming real estate market. With so many real estate transactions going through the state each day, rental scams are bound to happen.  
To refresh up on rental scams, these scams occur when a property owner or potential tenant misrepresents themselves in order to steal. Luckily, rental scams can be detected if you are alert and know the signs that lead up to these scams. 
In this article, we'll cover common red flags associated with rental scams and helpful tips to further reduce your chances of being scammed.
6 Red Flags of Rental Scams 
To avoid rental scams in Nevada, here are 6 common red flags that con artists usually don't cover up. 
If you see rental listing photos tagged with an MLS watermark — proceed with caution. That's because the MLS watermark indicates that the realtor does not have the original photo. If they don't have access to the original photo, they most likely aren't affiliated with that property at all! The image was most likely taken from the internet, local catalogs, and so forth. 
Sometimes, MLS watermarks can be hard to spot. They may be transparent, have their opacities lowered, or are tucked away into the corner of the image. Before transferring money or making any binding agreements, take a thorough look at the property photo and scan for any kind of watermark. 
Refusal to Give A Tour of the Property 
It's common courtesy for a realtor to offer you a tour as soon as communication is established. If the realtor says that an in-person tour isn't possible, ask about a virtual one. If the realtor rejects your request completely, it is a telltale sign that the realtor is up to no good. Since the realtor has no access to the property, they probably aren't associated with it either. 
Alternatively, scammers may pretend to be renters. Instead of money, these con artists are trying to gain confidential information related to your property. If a renter shows no interest or never makes a plan to see the property, be cautious. 
Overly Pushy and Rushed Demands 
Whether you are asked to sign something or send money somewhere, a real realtor would give you space for your decision. If you're rushed or demanded to do something by your realtor, that's because they want you to do an irreversible action before you can properly think. Carefully review information and proceed with caution with these types of realtors. 
Everyone likes good deals, and we get that. However, if you see a rental that's several hundred dollars cheaper than the ones next to it, it really might be too good to be true. The con artist may either be using an image of a property that they don't own or own the property but are lying about the rate. Either way, do your research and tread carefully for bargain deals. 
Making a Deal With No Background Information 
If you've been in contact with a landlord, they will often ask about your financial situation and background. That's because landlords will want to see if you are responsible to find good tenants and pay regular deposits. If the landlord has asked you to sign a lease without asking about your financial situation, they are probably looking to get a one-time payment from you and disappear.  
Don't send any money until you establish that the property and landlord are both legit. 
They're "Out of the Country" 
If you aren't able to meet the realtor or see the apartment, you might be stepping into a trap. Even if he or she says that they have an agent working for them or that a key will be delivered, you most likely should not proceed with the deal. 
What if the property itself is in another country? If that's the case, you might not be able to meet the realtor. Your safest bet is to use a credit card and a reputable vacation rental service with its own payment system. Of course, even with reputable services, make sure to do your research.
Tips To Protect Yourself From Rental Scams 
In addition to the red flags, here are some rental tips that you should be aware of. 
If you need to get your money back for whatever reason, the transaction needs to be traceable. This applies to all steps in the rental process, including the application fee, deposit, and rent. When paying with a credit card, make sure you can trust the listing website before disclosing any confidential information. 
Review Every Inch of the Lease 
A lease needs to be carefully elevated before you sign it. Make sure to look over every component and that you agree with all the points on the lease. If something on the lease is oddly worded or vague, directly contact the realtor or agent. Contact the realtor or agent if you have questions as well. Remember, leases are legally binding contracts — don't sign it without reading every inch of it. 
Avoid Listings With Missing Information 
Many rental scams will be listed with missing information. That may include typos, a lack of property pictures, or the wrong/no address. The reason there's a lack of information is that scammers often don't have the necessary information. If the listing looks sketchy, it probably is. 
Always Verify the Listing Address 
If there's no address associated with the listing, you can safely move on. Now, if there is an address, make sure to verify it. Copy and paste the listed address into your search engine, and compare the street view with the images you've been provided. If the street view and provided listing photos don't match, you've most likely found a rental scam.
How To Report Rental Scams 
Now, you will be better equipped to find rental scams in Nevada. If you identify a rental scam, the immediate next step is to report it. Contact the website or catalog that houses the listing, your local law enforcement agency, and the FTC.