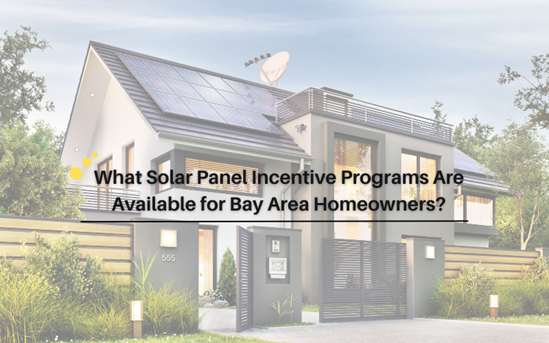 With sunny California weather, sustainable-minded residents, and high energy costs, the Bay Area is a prime location for residential solar. However, the upfront cost of installing solar panels can be daunting. 
Luckily, there are numerous incentive programs at the federal, state, and local levels designed to make solar more affordable and attainable for Bay Area homeowners through rebates, tax credits, and other savings opportunities.
Federal Solar Incentives
The federal government offers a few options to offset the costs of going solar:
– Federal Solar Tax Credit – This provides a 26% tax credit for systems installed in 2022-2023, down to 22% in 2024 before expiring. There is no maximum cap.
– Solar Renewable Energy Certificates (SRECs) – These certificates can be sold separately from the energy your system produces. Prices vary based on supply and demand.
– Modified Accelerated Cost Recovery System (MACRS) – This allows businesses to recover investments in solar through accelerated depreciation deductions.
California State Solar Incentives 
California has some of the most robust statewide solar incentives aimed at reaching its renewable energy goals:
– Self Generation Incentive Program (SGIP) – This provides rebates for installing battery storage paired with solar. Amount varies based on system size and income qualifications.
– New Homes Solar Mandate -Requires solar systems on new homes up to 3 stories built after 2020. Compliant builders are eligible for financial incentives.
– Property Assessed Clean Energy (PACE) Financing – Allows homeowners to finance solar improvements through a voluntary special tax assessment paid back over time through property taxes. 
– Net Energy Metering (NEM) – Utility customers with solar receive bill credits at retail rates for surplus energy added to the grid, offsetting costs.
Bay Area City/County Solar Incentives
Many local governments and utilities in the Bay Area offer additional solar incentives and rebates, including:
– San Francisco- CleanPowerSF – Up to $2,500 rebate for installing solar, additional $2,500 for pairing with storage.
– San Jose – Provides fast-track permitting, fee waivers, and other solar-friendly practices.
– Oakland – Pays SolarRewards incentive of $0.20 per kWh produced annually for 10 years.
– Marin County – Offers low-interest PACE financing for solar, EV chargers, and more through HERO program.
– Santa Clara County – Requires "solar ready" provisions on new low-rise residential buildings for easy future solar installation.
– Peninsula Clean Energy – 0.85 cents per watt rebate plus 20 cents per kWh produced annually for 6 years for San Mateo County customers. 
– East Bay Community Energy – 0.85 cents per watt rebate plus 20 cents per kWh produced annually for 6 years for Alameda County customers.
Key Programs for Low-Income Residents
Special programs also aim to make solar more accessible for low-income Bay Area residents, including:
– Grid Alternatives – Provides no-cost solar systems to qualifying homeowners through state/federal/utility funding.
– MASH Program – Multifamily Affordable Solar Housing program offers solar incentives for low-income multi-unit housing. 
– DAC-SASH – Disadvantaged Communities Single-Family Solar Homes program provides solar to low-income homeowners through incentives up to 100% of system cost. 
Considerations for Claiming Solar Incentives
To maximize savings when claiming solar incentives:
– Submit rebate applications early before funds run out 
– Work with an experienced solar installer who handles paperwork/approvals
– Research available federal + state + local incentives when budgeting
– Act quickly once your system is operational to qualify for production-based incentives
With the wide range of solar incentives available, determining which programs to leverage can be complex for homeowners. For assistance understanding solar rebates, tax credits, financing options, and more as you explore going solar, the team at Intempus Realty is happy to help. Their knowledgeable staff can provide guidance navigating the incentives landscape as you research solar for your home. For support taking advantage of the many solar savings opportunities in the Bay Area, contact Intempus Realty.