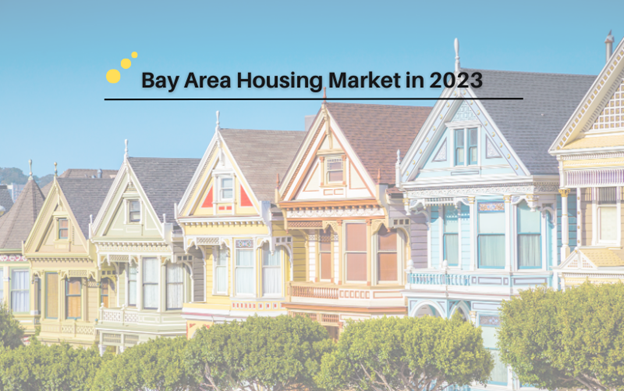 The Bay Area real estate market has witnessed significant shifts in 2023, impacting both sales and rentals. Understanding these trends is crucial for buyers, sellers, and property owners seeking to make informed decisions in this dynamic environment.
Sales Market Trends
In April 2023, the Bay Area saw a decline in single-family home sales, with a 36.1% decrease compared to the same period in 2022. This dip in sales was observed across all regions, indicating a general slowdown in the market. Alameda County experienced a year-over-year decrease of 37.3%, while San Francisco County saw a substantial 32.3% decrease in sales.
The median sold price of existing single-family homes in the Bay Area was $1,250,000 in April 2023, marking a significant 16.7% decrease from April 2022. County-specific trends varied, with Marin County experiencing a notable month-to-month increase of 11.9%, while San Francisco County saw a month-to-month decrease of 6.6%.
County-Specific Sales and Price Trends
Alameda County: Median sold price – $1,230,000; Year-over-year decrease – 18.0%; Sales decrease – 37.3%.
Contra Costa County: Median sold price – $900,000; Year-over-year decrease – 14.3%; Sales decrease – 35.0%.
Marin County: Median sold price – $1,790,000; Year-over-year decrease – 15.8%; Sales increase – 40.0%.
Napa County: Median sold price – $815,000; Year-over-year decrease – 16.4%; Sales decrease – 51.2%.
San Francisco County: Median sold price – $1,587,500; Year-over-year decrease – 22.8%; Sales increase – 13.9%.
The median days on the market for home listings in the Bay Area is 13 days, indicating a competitive environment. However, it's essential to note that certain counties have experienced a more significant contraction in sales compared to others.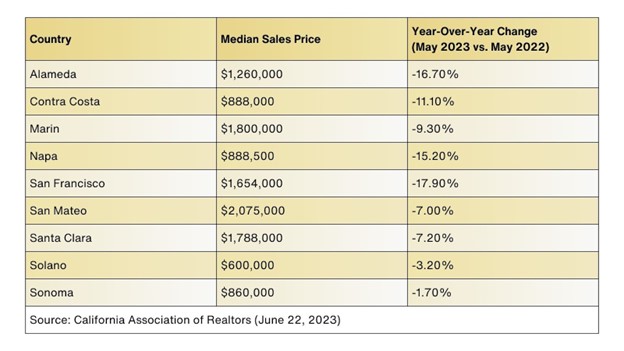 Rental Market Trends
As of June 2023, the median rent for all property types in the Bay Area is $4,295, reflecting a slight year-over-year decrease of $200. In San Francisco, the average rent for a 3-bedroom apartment is $4,995 per month. While prices have decreased slightly, the Bay Area remains one of the most expensive rental markets in the country.
Competitiveness in Rental Markets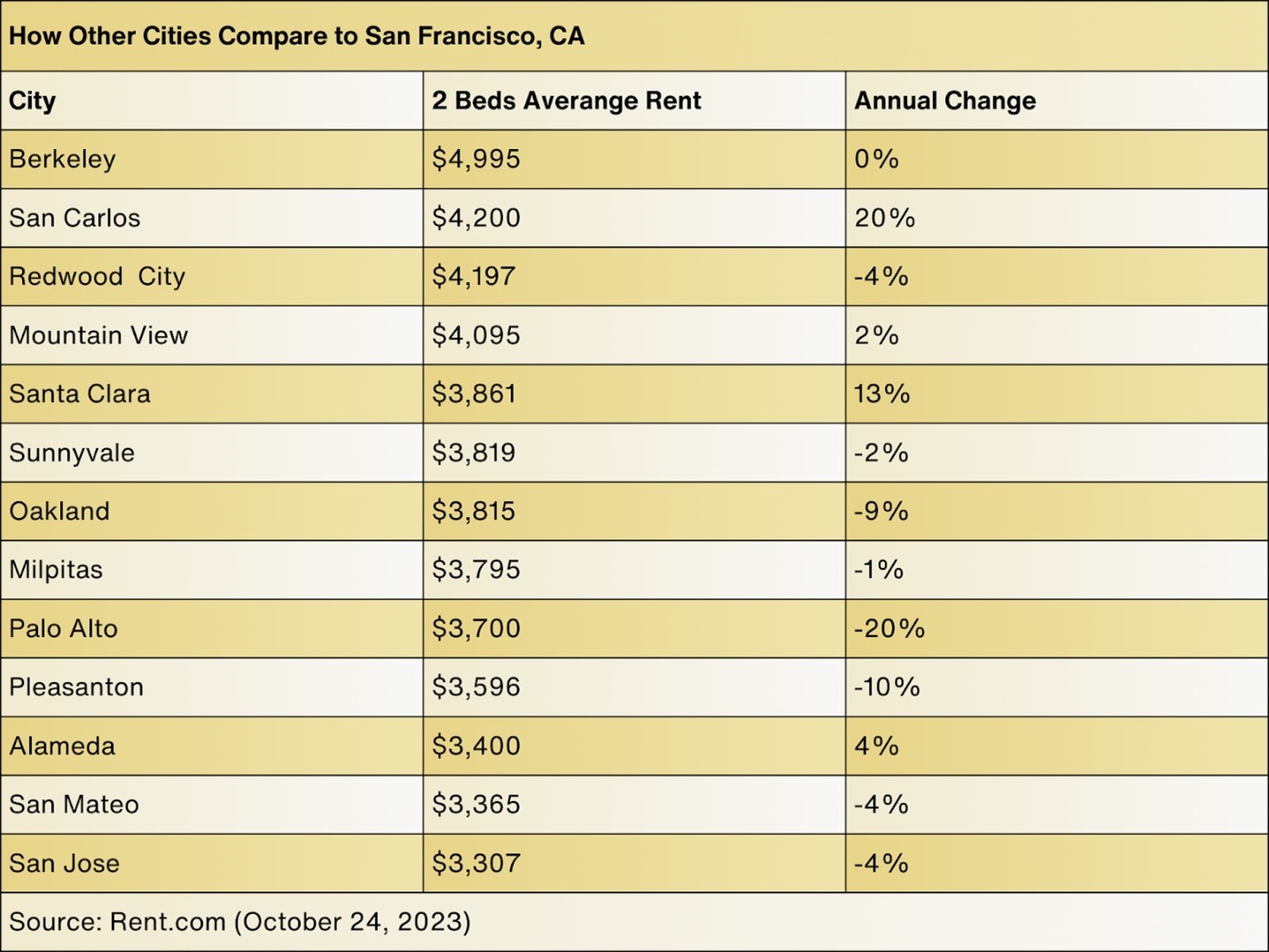 The rental market in Silicon Valley stands out as the fourth most competitive in California. Apartments stay vacant for only 36 days on average, with approximately 13 prospective renters per vacancy. This high demand is reflected in the occupancy rate of 95.6%. However, new construction accounts for only 0.16% of the market, limiting options for renters.
In the North Bay/San Francisco Peninsula and the East Bay, apartments tend to stay vacant for slightly longer, at 44 and 43 days on average, respectively. These regions attract around seven to nine prospective renters per vacancy, indicating lower competition compared to Silicon Valley.
Affordable and Popular Neighborhoods
For those seeking more affordable options, cities like Richmond, Vallejo, and Antioch offer lower monthly rents. Vallejo, at $1,550, Antioch, at $1,790, and Richmond, at $1,820, provide viable alternatives in the Bay Area's competitive rental landscape.
Factors Affecting the Market
In 2023, the Bay Area real estate market is under the influence of several key factors. These elements are instrumental in shaping the dynamics of the market and play a crucial role in both sales and rental segments.
Inflation and Budget Constraints
One of the pivotal factors impacting the Bay Area's real estate landscape is inflation. The rise in overall prices can have a direct impact on the budgets of potential buyers. As costs of living increase, individuals might find themselves with tighter budgets, potentially affecting the demand for properties at the lower end of the market.
Population Dynamics
Population shifts are another significant influence. From 2020 to 2021, the Bay Area experienced a decrease in population, dropping from 8.45 million to 8.28 million. This decline can be attributed to a combination of factors, including pandemic-related job losses, high living costs, and migration trends. These demographic shifts have implications for both the housing demand and supply dynamics.
Rising Mortgage Rates
Mortgage rates are on the rise, which is yet another factor contributing to the evolving real estate landscape. With interest rates trending upward, the cost of financing a home purchase increases. This, in turn, can influence the affordability of properties, potentially impacting the decision-making process for prospective buyers.
Higher Rents and Down Payment Challenges
The rental market is experiencing its own set of transformations. While rents currently stand at 1% to 3% below pre-pandemic rates, they are anticipated to increase in 2023. This uptick in rental costs can serve as a double-edged sword. On one hand, it may encourage some individuals to consider homeownership as an alternative to renting. However, higher rents can also present challenges in saving for a down payment, potentially extending the time it takes for individuals to transition from renting to owning.
Forecasts for 2024
The Bay Area's urban centers are beginning to rebound as major tech employers reintroduce in-person and hybrid work schedules. This return of office workers is acting as a catalyst for the region's housing market. However, prices are expected to remain relatively stable, with potential further decreases in the luxury home sector.
In conclusion, the Bay Area's real estate market in 2023 presents both challenges and opportunities for buyers, sellers, and renters. Staying informed about county-specific trends and understanding the competitive rental landscape is crucial for making informed decisions in this dynamic market.
For expert guidance in navigating the Bay Area's real estate market, consider partnering with Intempus Property Management. Their experienced team can provide valuable insights and tailored solutions to meet your specific needs. Whether you're buying, selling, or managing rental properties, Intempus is here to help you succeed in the Bay Area's dynamic real estate landscape.