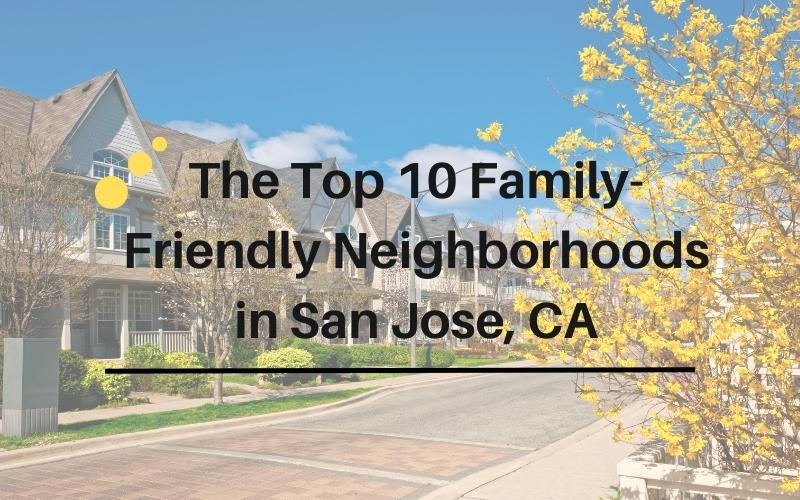 San Jose is the largest city in Silicon Valley and the third largest city in California. Known as the "Capital of Silicon Valley", San Jose is home to major tech companies like Adobe, eBay, Cisco Systems, and PayPal. While the city has a reputation for its thriving tech scene, it also has a lot to offer families. From excellent schools, abundant parks and recreation, kid-friendly attractions, and safe neighborhoods, San Jose is a great place to raise a family. 
If you're looking for the best neighborhoods in San Jose for families, you've come to the right place. Below we've compiled the top 10 most family-friendly neighborhoods in the city based on factors like safety, schools, amenities, things to do, and community. No matter your family's needs and preferences, you're sure to find a neighborhood in San Jose that you'll love calling home.
Willow Glen
Willow Glen is one of the most coveted and family-friendly neighborhoods in San Jose. Charming early 20th-century homes line the streets, giving the area a quaint, small-town feel while still being close to downtown. The neighborhood is known for its excellent schools like Willow Glen Elementary and Hoover Middle School. Families love the safe streets and abundance of parks, like Willow Glen Park and the Los Gatos Creek Trail. The historic downtown area along Lincoln Avenue offers boutique shops, restaurants, cafes, and seasonal festivals and events. Whether you have young kids or teens, Willow Glen offers an ideal environment for families.
Shasta Hanchett Park
Families love the Shasta Hanchett Park neighborhood for its great schools, amenities, new housing, and quiet suburban feel. The neighborhood gets its name from the large Shasta Hanchett Park in the center, which has play structures, tennis courts, ball fields, and a community pool. Top-rated elementary, middle, and high schools like Peterson Middle School and Pioneer High School are located nearby. New family-sized homes and townhouses offer open floor plans and yards. The neighborhood provides easy access to freeways, the airport, and tech job centers in North San Jose and Santa Clara.
Cambrian Park
Known for its tree-lined streets and 1950s suburban charm, Cambrian Park is a wonderful neighborhood for families in east San Jose. Families are drawn to the area for its highly-rated schools like Camden Community Day School and excellent parks like Camden Community Park and the Ross Dog Park. The neighborhood is very walkable and contains amenities like markets, coffee shops, restaurants, and retail along Union Avenue and Camden Avenue. Active residents love the close proximity to the Los Gatos Creek Trail for walking, running, and biking. Affordable mid-century homes give the area vintage appeal. 
Almaden Valley 
Nestled at the base of the Santa Cruz Mountains, Almaden Valley offers a serene setting with excellent schools like Graystone Elementary. Families enjoy scenic walking trails, open spaces at Almaden Quicksilver County Park, and a real sense of community. The neighborhood has great amenities like the Almaden Community Center, library, and shopping centers. New communities with spacious homes and townhouses continue to develop in the area. Proximity to strong school districts, a suburban feel, scenic views, and recreation make Almaden Valley a top choice for families.
Rose Garden
Rose Garden lives up to its name with gorgeous landscaping and greenery throughout the neighborhood. Located near the center of San Jose, the area has a small-town vibe despite its urban location. Top-ranked schools, safe streets, and amenities make it ideal for families. Excellent parks like the Rose Garden Park provide space for kids to play and recreation programs. The neighborhood is known for its beautiful rose gardens and annual Rose Garden Summer Festival. Downtown San Jose is just a quick drive away.
Naglee Park
Historic Naglee Park offers a prime location near downtown San Jose and Rose Garden. The charming neighborhood has tree-lined streets filled with vintage Craftsman, Victorian, and Queen Anne-style houses. Excellent schools like Horace Mann Elementary and Lowell Elementary are located nearby. Families enjoy amenities like Las Plumas Park, the San Jose Rose Garden, San Jose State University area, local restaurants, and coffee shops. The neighborhood association hosts events like movie nights and food festivals that help create a strong sense of community.
Blossom Valley
Affordable new construction homes in master-planned communities attract families to Blossom Valley in southeast San Jose. Top-rated schools like Challenger and Pioneer High School provide excellent education. The neighborhood offers fun amenities like the 24 Hour Fitness Super-Sport, Vasona Park, and Oakridge Mall. Active open spaces give kids room to play while scenic views of the Santa Cruz Mountains provide a beautiful backdrop. Easy access to major freeways and Expressways like 85, 87, and 101 add to the convenience for families. 
Silver Creek
Silver Creek offers a suburban retreat for families in south San Jose. Excellent schools, spacious homes, scenic views, and recreation give the neighborhood strong appeal for families. Some of the top schools are Fowler Elementary, O.B. Whaley Elementary, and Silver Creek High School. Family-friendly amenities include Silver Creek Valley Country Club, Silver Creek SportsPlex, and Caribbean Gardens Park. The scenic Silver Creek Hills provide opportunities for walks and bike rides, while also giving the area a quiet, secluded feel. It's a wonderful place to live if you want to get away from city life while still being in San Jose.
Evergreen
Evergreen has established itself as a hidden gem in San Jose, offering affordable homes, good schools, and a close-knit community. Highly-rated schools attract families to the area, like Chaboya Middle, Quinn Elementary, and Silver Creek High School. The neighborhood contains amenities like the Evergreen Library, Evergreen Valley High School Aquatics Center, and Silver Creek Valley Country Club. Tree-lined streets and mid-century suburban homes give Evergreen plenty of neighborhood appeal. Proximity to freeways, shopping, and downtown make it a very convenient place for families.
Berryessa
The Berryessa neighborhood in north San Jose has experienced major growth recently, making it a hot neighborhood for families. New housing, parks, and community centers provide modern amenities families want. Some of the top schools in the area are Muwekma Ohlone Middle School, Vinci Park Elementary, and Piedmont Middle School. Recreation like the Coyote Creek Trail, Penitencia Creek Park, and Paradise Park offer outdoor spaces for kids and residents. Expected completion of the Berryessa BART station in 2022 will give families an easy option for commuting. Berryessa provides urban convenience and amenities with a suburban feel.
Conclusion: 
When searching for the perfect neighborhood to call home, families have lots of excellent options in San Jose. The neighborhoods highlighted here are some of the top places in the city that offer great schools, amenities, community events, recreation, safety, and appeal. No matter if you have young children or teenagers, this list provides a diverse selection of communities that will meet your family's needs. 
To summarize some of the best features for families:
Top Public Schools:
– Willow Glen Elementary 
– Peterson Middle School
– Pioneer High School 
– Camden Community Day School
– Graystone Elementary
– Horace Mann Elementary
– Lowell Elementary
– Challenger School
– Fowler Elementary
– Muwekma Ohlone Middle School
Parks and Recreation: 
– Willow Glen Park
– Los Gatos Creek Trail  
– Shasta Hanchett Park
– Camden Community Park
– Almaden Quicksilver County Park
– Las Plumas Park
– Vasona Park
– Silver Creek SportsPlex
– Caribbean Gardens Park
– Coyote Creek Trail
– Penitencia Creek Park
– Paradise Park
Do your research, explore different areas, and you're sure to find the ideal family-friendly neighborhood that fits your lifestyle in San Jose. For help finding the perfect rental home or property management, contact Intempus Realty, a top real estate team serving the San Jose area.